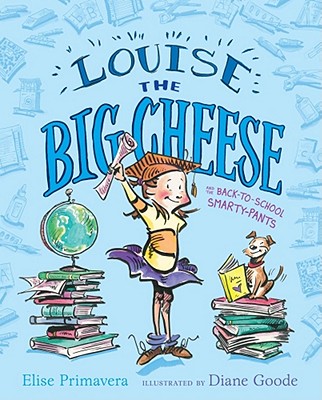 Louise the Big Cheese and the Back-to-School Smarty-Pants (Hardcover)
Simon & Schuster/Paula Wiseman Books, 9781442406001, 40pp.
Publication Date: July 19, 2011
* Individual store prices may vary.
Description
Louise the Big Cheese is determined to make the grade in school this year and that means straight As. But she's stuck with the toughest teacher ever. Will Louise make the grade?
About the Author
Elise Primavera is the author and illustrator of the New York Times bestselling Auntie Claus series and the popular Ms. Rapscott's Girls. She is also the author of the Louise the Big Cheese books and other award-winning titles. She lives in New Jersey, and you can visit her at ElisePrimavera.com.

Diane Goode is the illustrator of dozens of beloved and critically acclaimed picture books, including several written by Cynthia Rylant: Alligator Boy; When I Was Young in the Mountains, a Caldecott Honor Book; and most recently, Baby Face: A Book of Love for Baby. She is also the illustrator of President Pennybaker and My Mom is Trying to Ruin My Life, both by Kate Feiffer. She lives and works in Watchung, New Jersey, with her husband, David, and their two dogs, Jack and Daisy.
Praise For Louise the Big Cheese and the Back-to-School Smarty-Pants…
Louise the Big Cheese and the Back-to-School Smarty-Pants
Elise Primavera, illus. by Diane Goode. S&S/Wiseman, $16.99 (40p) ISBN 978-1-4424-0600-1

Not to be outdone by her older sister, Louise vows to get straight As in school: "If she could get straight As, everybody would want to be her friend.... She would probably be promoted to college!" But her new teacher, Mrs. Pearl, is not very accommodating ("You can do better, Miss Cheese," she says in response to Louise's efforts). When a substitute teacher, Mrs. Sprinkles, takes Mrs. Pearl's place, Louise is delighted--until she discovers that getting an A from Mrs. Sprinkles doesn't mean as much as getting a B+ from Mrs. Pearl. Louise's lovable imperfections are sweetly matched by her ambitions, as she learns how to live up to her potential. Ages 5–up.

--Publishers Weekly, May 23, 2011

K-Gr 2–In her latest adventure, Louise Cheese takes an academic turn as she begins second grade. Inspired by her older sister, Penelope, she decides that she can become a Big Cheese not by acting or wearing sparkly shoes but by being a straight-A student. "If she could get straight As, everybody would want to be her friend. She would probably even get to skip a grade–two grades–three grades! She would probably be promoted to college!" Alas, Louise's new teacher turns out to be a demanding taskmistress–and a stingy giver of As. When the no-nonsense woman is briefly replaced by a laissez-faire sub, Miss Sprinkles, Louise finally earns her coveted A–but so do all her classmates. Upon Mrs. Pearl's return, Louise receives her first report card and begins to appreciate the value of her teacher's Bs. With its snappy pace, numerous characters (including a talking dog), and narrative text alternating with dialogue balloons, this tale would work well as a dramatic read-aloud by an adult and/or several children. Watercolor and black-line illustrations energetically depict the irrepressible Louise and host of supporting characters; the scenes representing the child's imagination are especially funny. Comiclike endpapers depict female big-cheese and little-cheese smarty-pants, both real and fictitious, and underscore the importance of striving for one's personal best at any age.–Kathleen Finn, St. Francis Xavier School, Winooski, VT

- School Library Journal, June 2011 *STARRED REVIEW*

That indomitable diva Louise is back, this time showing kids that hard work is its own reward.

Louise's latest woe is the fact that her goal of getting straight A's is incompatible with her teacher's principles—Mrs. Pearl never gives A's. But that doesn't stop Louise from trying…too hard, in fact. Her calling out and doing things without permission only earn negative attention from her new teacher. And her schoolwork? "You can do better, Miss Cheese." After imagining all sorts of tragedies befalling her tough teacher, Louise is pleased one morning to see a substitute. But Miss Sprinkles does not push Louise to do better, accepting mediocrity, and when Louise gets an A along with every other student, it is not the achievement she had envisioned. She actually misses Mrs. Pearl. Goode's watercolor illustrations perfectly capture Louise's sass and attitude, her hopefulness and her frustration. Readers will laugh aloud at the predicaments Louise imagines for the hapless Mrs. Pearl. And parents and teachers alike will cheer at Louise's resolve to do her best.
If only everyone had Louise's work ethic, determination and spunk, and every teacher pushed students to do their best. A timely message for readers on both sides of the desk. (Picture book. 5-10

- KIRKUS REVIEWS, June 1, 2011 *STARRED REVIEW*
or
Not Currently Available for Direct Purchase