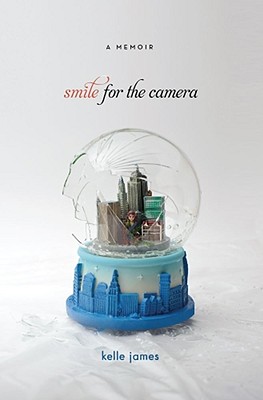 Smile for the Camera (Hardcover)
Simon & Schuster Children's Publishing, 9781442406230, 392pp.
Publication Date: November 2, 2010
* Individual store prices may vary.
or
Not Currently Available for Direct Purchase
Description
Kelle James left an abusive home at the age of sixteen and went to the best place she could imagine: New York City. She had big plans of becoming a model, but within a week she was homeless and broke. What follows is her exceptional story of trying to make it on her own with nothing to her name and no one to trust. She encounters a string of people who take advantage of her youth and beauty, endures many disappointments and rejections, and has a surprising connection to an infamous murder trial. This sparse narrative of a girl who loses herself before finding her way is not only utterly compelling--it's entirely true.
Praise For Smile for the Camera…
This completely absorbing memoir follows the author from age 16, when she escaped from an abusive home in the late 1970s to become a model in New York City. Although Kelle ultimately succeeds, her path from squalor to security takes her through more abusive relationships, homelessness and a sensational murder trial. Kelle is one scrappy girl, though. With a few good friends and the timely kindness of strangers, she survives. This is a cautionary story to those who dream of similar runs to fame. James pulls no punches in her descriptions of the sexual and physical abuse she suffered at the hands of predatory men in the city and in flashback memories of her violent father. She describes a sexual attack and doesn't shy away from innuendo in her characters' dialogue. Stark in its honesty, the book propels readers forward with a sense of suspense worthy of a thriller. James bares her former adolescent soul and proudly celebrates her toughness, while owning up to her mistakes as well. Compelling and fascinating—a striking debut. - KIRKUS, October 1, 2010, *STAR


Smile for the Camera
Kelle James, Simon & Schuster, $16.99 (416p) ISBN 978-1-4424-0623-0
Kelle has an abusive father, but she also has an escape: she's beautiful, and at age 16 she moves from Maryland to New York City to become a model. Yet 1970s Manhattan is anything but glamorous, and debut author James's memoir is less about life as an aspiring model than it is about the many ways that men try to take advantage of pretty teenage girls. James's New York is a seedy place filled with roach-infested apartments, nights at Studio 54, drugs, girls being duped into sex, and the struggle to survive on very little money ("Don't never walk on Forty-second Street neither," a bagel shop employee tells her soon after she arrives in town. "They'll make a meal out of ya there"). Her present-tense prose, while technically adept, can feel precious and overwritten, and Kelle's naïveté forced (sure, New York accents are thick, but it's tough to believe she wouldn't pick up what "loitah" and "trooncy" mean). Still, with painful accounts of rape, abuse, and her connection to a 1978 murder, it's very easy to forget that this isn't fiction. Ages 14–up. (Nov.)
--Publishers Weekly, November 1, 2010
Advertisement