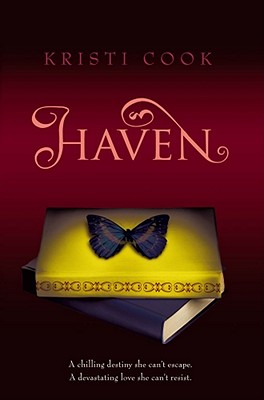 Haven
Hardcover

* Individual store prices may vary.
Other Editions of This Title:
Paperback (1/3/2012)
Description
Violet McKenna isn't a normal girl with normal teenage issues; she has more to contend with than most people could handle. Violet thought she was just crazy when she had a vivid vision of her dad's murder. Her life started falling apart when her premonition came true. She's had flashes of other events too. The problem was nobody believed her until she found a new school: Winterhaven.

At Winterhaven, Violet finally feels like she belongs. She quickly finds a close group friends and discovers that they too have psychic 'gifts'—as do all the students at Winterhaven. But as soon as she feels settled she discovers the most intriguing and alluring boy she has ever met, and things quickly go awry. As the attraction between them grows, intense visions of the boy's death start to haunt her. In her premonitions the secret he is unwilling to share begins to reveal itself. And to Violet's horror, she learns that their destinies are intertwined in a critical--and deadly--way.
Praise For Haven…
"Cook's first YA novel reads like a blend of the Gemma Doyle trilogy, the Twilight saga, and Lois Duncan's thrillers, and it will find a wide audience among female fans of gothic novels" --Booklist

"If you're looking for a refreshing and unique paranormal read, look no further because Haven is the book for you. Filled with interesting plot lines, well-developed, relatable characters, and a swoon-worthy romance, this a book that manages to have it all and more!" --Lauren, goodreads.com

"Haven is a riveting, exhilarating and spectacular new story from a promising debut author that I couldn't get enough of. Days after finishing the book, I still can't get these characters out of my head. Haven is a book I will read again and again!" --bookscompleteme.com

"Seriously sexy... Hand this one to fans of Gray's similarly themed Evernight and to all the girls who have broken the bindings on their Twilight books."--Bulletin of the Center for Children's Books

"I love love love loved this book. I was hooked from page one. I'd give it 6 out of 5 stars! Haven is a definite MUST READ and a GOOD CHOICE for READING!" --Wanda, goodchoicereading.com

"X-Men meet's Buffy the Vampire Slayer meets Twilight... had me hooked, and left me wanting more.
Haven was the perfect mixture of mystery, romance and paranormal. If you're a Twilight fan, or a Buffy fan, then you'll love this book. "
--Christy, thereaderbee.com

"The pacing and structure of this book are extraordinarily good. The suspense builds and the action gets more intense, as does the anticipation of the development of the relationship between the main characters.

For me, this is a perfect marriage of Stephenie Meyer's Twilight and Lauren Kate's Fallen. This book has all our favorite qualities, all in one lovely, satisfying package.

Anyone who likes YA paranormal needs to read this. Seriously- now. Go get it."
--Paula, readinglark.blogspot.com

"With a fast-paced plot line, continuously unfolding drama, a bit of romantic anticipation and a few well-timed twists, Haven is bound to be a favorite." --New York Journal of Books
Simon & Schuster Books for Young Readers, 9781442407602, 416pp.
Publication Date: February 22, 2011
About the Author
Kristi Cook also publishes adult titles under the names Kristina Cook and Kristi Astor. Her YA novels include Haven, Mirage, Eternal, and Magnolia. Kristi lives in New York City with her husband and two daughters. Visit her at Kristi-Cook.com.