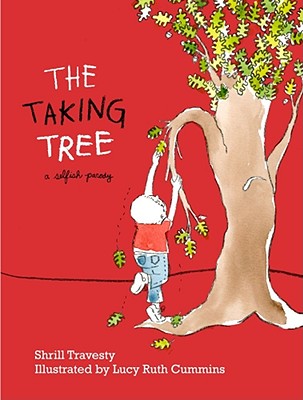 The Taking Tree: A Selfish Parody (Hardcover)
A Selfish Parody
Simon & Schuster Books for Young Readers, 9781442407633, 48pp.
Publication Date: October 19, 2010
Description
We all know the story of the "selfless" tree that gave all she had just to make sure a young boy was "happy."
Snore. This is a different tree. This is a different boy. This is a very different book.
The Taking Tree is not so happy when the boy takes her twigs to pick on his sister, or takes her apples to sell for college (she's an oak tree for goodness sake), or when he cuts off her branches to build a house that he burns for insurance money. And the boy is not sorry at all. Ever. In fact, he's kind of a jerk. And the boy asks for more, and more, and more until the oak tree is so fed up she just can't take it any longer. While another story might end sweetly with an old man sitting on a stump. This one does not.
About the Author
Pete Hautman has written many novels for adults, including Doohickey, as well as the teen novels Hole in the Sky, Stone Cold, and Mr. Was, which was nominated for an Edgar Award by the Mystery Writers of America. He divides his time between the Twin Cities of Minnesota and the shores of Lake Pepin in southwestern Wisconsin. According to Pete, the idea for Sweetblood was born more than twenty years ago: "I was researching the origins of vampire stories when I discovered two remarkable facts. First, drinking excessive amounts of blood can cause diabetes -- bad news for would-be vampires! Second, I learned that diabetes, if left untreated, could produce symptoms that made the victim look and act a lot like the vampires of stories and legends. Coincidence? Perhaps... "A few years later, I was diagnosed with insulin-dependent diabetes. So far I haven't developed a taste for blood, but you never know...." Visit Pete on the Web at www.petehautman.com.
Advertisement