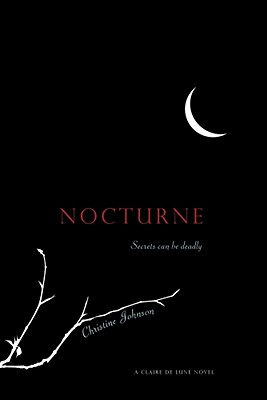 Nocturne (Hardcover)
Simon Pulse, 9781442407763, 368pp.
Publication Date: August 23, 2011
Other Editions of This Title:
Paperback (7/24/2012)
Paperback (8/1/2011)
* Individual store prices may vary.
Description
Some secrets are too dangerous…

After the tragic events of the summer, Claire is looking forward to a new school year. All she wants to worry about is finding the most gorgeous dress to wear to the Autumn Ball with her perfect boyfriend.

But as Claire knows all too well, the life of a werewolf is never that simple, or that sweet.

When Claire's human and wolf lives start to collide, her worst nightmares come true. She is hurting her best friend. She has been caught lying. And then the unthinkable happens: Someone discovers Claire's secret.

If Claire's werewolf identity is exposed, everyone she knows will be put at risk. And the pack's response comes at a cost higher than Claire can imagine. Claire will be forced to determine just how far she is willing to go to protect her family, her identity, and her life, before she loses it all…
About the Author
Christine Johnson grew up in, moved away from, and finally came home to Indianapolis, Indiana. While she was in the "away" part of that adventure, she lived in Chicago, Illinois, where she attended DePaul University and majored in Political Science. She now lives in an old house in an old neighborhood with her kids and way too many books. Find her on the web at http://www.christinejohnsonbooks.com/ and on Twitter @cjohnsonbooks.
Praise For Nocturne…
"An intense, compelling tale of love, loyalty, and friendship... Nocturne is a must-read!"

-Cyn Balog, author of Starstruck

"Nocturne is a rich melding of the ordinary and the fantastic-- most of us don't know what it's like to be a werewolf, but we all know what it's like to juggle family, friends, school and more. Christine Johnson captures both with warmth, wit and authenticity."

-Saundra Mitchell, author of The Vespertine

"[A] teen everygirl turned werewolf is torn between hernewfound role as a member in a pack of the centuries-old loup-garou and herfriends in the human world…..[A] solid story with an undeniably likableheroine."

--Kirkus

"Johnson once again spins a tale with unique werewolflore that is authentic and original. Claire's conflicting emotions, self-doubt,and need to stay true to herself while obeying the pack ring true." –SLJ
or
Not Currently Available for Direct Purchase