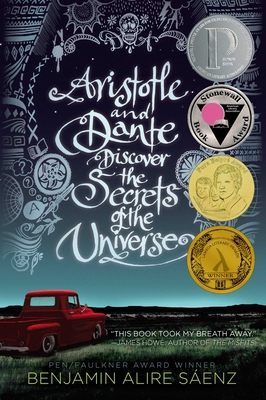 Aristotle and Dante Discover the Secrets of the Universe
Paperback

* Individual store prices may vary.
Other Editions of This Title:
Paperback, Large Print (4/1/2018)
CD-Audio (4/9/2013)
Library Binding, Large Print (2/21/2018)
Description
A Time Best YA Book of All Time (2021)

This Printz Honor Book is a "tender, honest exploration of identity" (Publishers Weekly) that distills lyrical truths about family and friendship.

Aristotle is an angry teen with a brother in prison. Dante is a know-it-all who has an unusual way of looking at the world. When the two meet at the swimming pool, they seem to have nothing in common. But as the loners start spending time together, they discover that they share a special friendship—the kind that changes lives and lasts a lifetime. And it is through this friendship that Ari and Dante will learn the most important truths about themselves and the kind of people they want to be.
Praise For Aristotle and Dante Discover the Secrets of the Universe…
* "A tender, honest exploration of identity and sexuality, and a passionate reminder that love—whether romantic or familial—should be open, free, and without shame."
— Publishers Weekly, starred review

* "Authentic teen and Latino dialogue should make it a popular choice."
— School Library Journal, starred review

* "Meticulous pacing and finely nuanced characters underpin the author's gift for affecting prose that illuminates the struggles within relationships."
— Kirkus Reviews, starred review

"Sáenez writes toward the end of the novel that "to be careful with people and words was a rare and beautiful thing." And that's exactly what Sáenez does—he treats his characters carefully, giving them space and time to find their place in the world, and to find each other...those struggling with their own sexuality may find it to be a thought-provoking read."
— Booklist

"Sáenz has written the greater love story, for his is the story of loving one's self, of love between parents and children, and of the love that builds communities, in addition to the deepening love between two friends."
— VOYA

"Ari's first-person narrative—poetic, philosophical, honest—skillfully develops the relationship between the two boys from friendship to romance."
— The Horn Book

"Primarily a character- and relationship-driven novel, written with patient and lyrical prose that explores the boys' emotional lives with butterfly-wing delicacy."--Bulletin of the Center for Children's Books

"Sáenz is a master at capturing the conversation of teens with each other and with the adults in their lives."
— Library Media Connection, Recommended

"This book took my breath away. What gorgeous writing, and what a story! I loved both these boys. And their parents! Don't we all wish we had parents like theirs? The ending - and the way it unfolded - was so satisfying. I could go on and on...suffice it to say I will be highly recommending it to one and all. I'm sure I'll reread it myself at some point. I hated having it end."
— James Howe, Author of Addie on the Inside

"I'm absolutely blown away. This is Saenz's best work by far...It's a beautiful story, so beautifully told and so psychologically acute! Both Ari and Dante are simply great characters who will live on in my memory. Everything about the book is absolutely pitch perfect...It's already my favorite book of the year!"
— Michael Cart, Booklist columnist and YALSA past president

"Benjamin Alire Saenz is a writer with a sidewinder punch. Spare sentences connect resonant moments, and then he knocks you down with emotional truth. The story of Ari and Dante's friendship widens and twists like a river, revealing truths about how hard love is, how family supports us, and how painfully deep you have to go to uncover an authentic self."
— Judy Blundell, National Book Award-winning author of What I Saw and How I Lied
Simon & Schuster Books for Young Readers, 9781442408937, 384pp.
Publication Date: April 1, 2014
About the Author
Benjamin Alire Sáenz is an author of poetry and prose for adults and teens. He was the first Hispanic winner of the PEN/Faulkner Award and a recipient of the American Book Award for his books for adults. He is the author of Aristotle and Dante Discover the Secrets of the Universe, which was a Printz Honor Book, the Stonewall Award winner, the Pura Belpré Award winner, the Lambda Literary Award winner, and a finalist for the Amelia Elizabeth Walden Award, and its sequel, Aristotle and Dante Dive into the Waters of the World. His first novel for teens, Sammy and Juliana in Hollywood, was an ALA Top Ten Book for Young Adults and a finalist for the Los Angeles Times Book Prize. His second book for teens, He Forgot to Say Goodbye, won the Tomás Rivera Mexican American Children's Book Award, the Southwest Book Award, and was named a New York Public Library Book for the Teen Age. He lives in El Paso, Texas.
Prereading Questions
1. Do people always have to understand the people they love? Why or why not?
2. What characteristics are most admirable in a close friend?
Questions for Discussion
1. Aristotle (Ari) Mendoza is one of four children. His two older sisters and his older brother no longer live at home. Describe his relationship with his siblings. Why does he feel like the family mascot?
2. How does Ari meet Dante? Compare and contrast their personalities.
3. Why do Ari and Dante become friends? What personality traits does Ari most admire in Dante and why?
4. Does Ari have a close relationship with his parents? How does his relationship with his mother differ from his relationship with his father?
5. Where is Ari's older brother Bernardo, and how is the family impacted by Bernardo's absence?
6. Why is Ari's father distant and how does he manage to deal with his emotional state? How does his wife justify his emotional distance?
7. How does Ari save Dante's life and at what personal cost? Why does Ari feel angry after the accident? How does Ari's relationship with his parents change after the accident?
8. Tragedy sometimes sets the stage for families to discuss topics that are long overdue. In what way does the accident help Ari better understand his parents? How does it help his parents come to know him better?
9. Why does Ari feel angry after the accident? By what rules does he insist that he and Dante play in regards to the accident? Why does he insist on these rules?
10. Dante is an artist and shares his sketchbook with Ari shortly after the accident. Why does Ari not look at the drawings? Why does he eventually do so?
11. Why do Ari's parents buy him a pickup? Would they have done so prior to the accident? Why or why not?
12. How does Ari feel about Dante's family moving to Chicago for one school year? How do the two stay connected during this time?
13. During their year apart, how do both Ari and Dante grow? Explain.
14. Who are Gina Naverro and Susie Byrd? How does Ari develop a friendship with them?
15. Ari becomes obsessed with kissing a classmate named Ileana. What role does Ileana play in the story? Is Ari in love with her?
16. Ari's and Dante's parents become good friends. Are they good parents? Support your response with evidence from the text.
17. In what way is a sparrow a symbol in the story?
18. Is Ari a responsible teen? Support your response with examples.
19. Ari is curious about his brother; however, he refuses to open an envelope that contains information about his brother that he finds tucked away in a drawer. Why does he not open the folder?
20. Ari's mother leaves for a few days to care for an ailing aunt. How does his aunt's death impact Ari's parents? What does Ari learn about her, and his own family, after her death? How does this information impact him?
21. When Dante is beaten up for kissing a boy, Ari seeks revenge on Dante's tormenters. Why does his revenge scare his parents? Is their fear justified? Why or why not?
22. How does Ari resolve his feelings for Dante? How does he resolve his feelings about his own self worth?
Questions for Further Discussion
1. In the beginning of the story, Ari doesn't understand his father. He describes him as a "mystery." As Ari matures he says, "I came to understand that my father was a careful man." Explain Ari's acceptance and understanding of his father.
2. Dante is a well-developed, unique character. What characteristics and behaviors does the author give Dante that contribute to this uniqueness?
3. Both Ari and Dante have distinctive voices. How does the author use dialogue to develop character voice? Cite examples.
4. At Dante's suggestion, Ari reads Conrad's Heart of Darkness and agrees with Conrad that the world is a dark place. Why does Ari have this viewpoint? Does this belief alter by story's end?
5. The author uses a storm as a metaphor for pain. He writes, "Sometimes pain was like a storm that came out of nowhere. The clearest summer morning could end in a downpour. Could end in lightning and thunder." How is this a fitting metaphor for Ari's life? For his father's?
6. Both Ari and his father have dreams in the story. Describe their dreams. What do the dreams mean to each of them?
7. Ari is depicted throughout the story as being lonely. What factors account for his loneliness and confusion? What role do his parents play in helping him accept his identity?
8. The novel is written from Ari's point of view. How might the story be different were it written from Dante's perspective?
9. Both Ari and Dante are intelligent teens. How does the author use vocabulary to convey this characteristic? Cite examples.
10. Ari feels self-contempt in the beginning of the story. What accounts for this feeling and how does it change as the story progresses?
Guide written by Pam B. Cole, Professor of English Education & Literacy Kennesaw State University, Kennesaw, GA