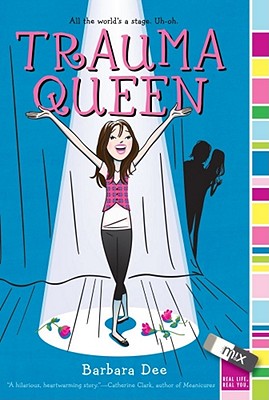 Trauma Queen (mix)
Paperback

* Individual store prices may vary.
Description
Every tween girl knows what it's like to have a mom who can be a little embarrasing at times. But for Marigold, it goes way beyond embarrassing. Marigold's single mom is a performance artist, meaning she stages dramatic, wacky performances to express her personal beliefs. Things like wrapping herself in saran wrap for a piece on plastic surgery, or inviting people over in the middle of the night to videotape her sleeping. In fact, Marigold's mom's performances caused such a ruckus in their last town that the two of them, along with Marigold's little sister, have just had to move. Now Marigold's starting a new school, missing her best friend like crazy, and trying to fit in all over again in the shadow of a mom who's famous for all the wrong reasons. As if that's not bad enough, Marigold's mom takes on a new job--teaching drama at Marigold's school! Now all the kids know instantly just how weird her mom is, and Marigold's worried she'll never be able to have a friendship that can survive her mother.
Praise For Trauma Queen (mix)…
"Funny, quirky and touching, with characters that leap off the page and into your heart. TRAUMA QUEEN gives us a mother-daughter relationship that will make you laugh, groan and cheer. Barbara Dee has mastered the knack of letting her characters be true to themselves and shine."
--Julia DeVillers

"TRAUMA QUEEN made me giggle, cringe and cheer! With a main character you can root for, humor that will make you laugh out loud, poignant drama that tugs at your heart, and performance art galore, this story perfectly captures middle school family and friend dynamics. Bravo!"

--Erin Dionne

"Totally funny, refreshingly realistic look on a crazy middle school life.Trauma Queen by Barbara Dee is an easy read, filled with humor and relatable scenarios. Be sure to pick up a copy to discover how Marigold's crazy story unfolds."

--Girls Life Magazine

Marigold's mom is a performance artist, and she tends to stir things up everywhere they go. Marigold is determined that this time, she'll keep a low profile at her new school. she might actually succeed, too, but then her mom decides to teach...at her new school. What mayhem will her mom cause this tme? A laugh-out-loud look at family and friendship.
--Jan Fields, Discovery Girls Magazine April/May 2011

"Marigold experiences the shifting allegiances and infighting among her classmates but in the end makes friends and comes to appreciate her over-the-top mother, with help from her wise and supportive grandmother. Often funny, the story also shows how looking at people in a new light can change one's opinion of them."

--School Library Journal

"Terrific . . .smart and very funny"
--Nell Minow
Aladdin, 9781442409231, 272pp.
Publication Date: April 19, 2011
About the Author
Barbara Dee is the author of twelve middle grade novels including Violets Are Blue, Haven Jacobs Saves the Planet, My Life in the Fish Tank, Maybe He Just Likes You, Everything I Know About You, Halfway Normal, and Star-Crossed. Her books have earned several starred reviews and have been named to many best-of lists, including The Washington Post's Best Children's Books, the ALA Notable Children's Books, the ALA Rise: A Feminist Book Project List, the NCSS-CBC Notable Social Studies Trade Books for Young People, and the ALA Rainbow List Top Ten. Barbara lives with her family, including a naughty cat named Luna and a sweet rescue hound named Ripley, in Westchester County, New York.