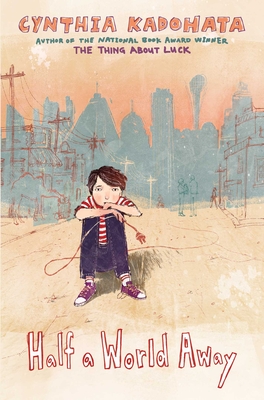 Half a World Away (Hardcover)
Atheneum Books for Young Readers, 9781442412750, 240pp.
Publication Date: September 2, 2014
* Individual store prices may vary.
Description
A kid who considers himself an epic fail discovers the transformative power of love when he deals with adoption in this novel from Cynthia Kadohata, winner of the Newbery Medal and the National Book Award.

Eleven-year-old Jaden is adopted, and he knows he's an "epic fail.' That's why his family is traveling to Kazakhstan to adopt a new baby—to replace him, he's sure. And he gets it. He is incapable of stopping his stealing, hoarding, lighting fires, aggressive running, and obsession with electricity. He knows his parents love him, but he feels...nothing.

But when they get to Kazakhstan, it turns out the infant they've travelled for has already been adopted, and literally within minutes are faced with having to choose from six other babies. While his parents agonize, Jaden is more interested in the toddlers. One, a little guy named Dimash, spies Jaden and barrels over to him every time he sees him. Jaden finds himself increasingly intrigued by and worried about Dimash. Already three years old and barely able to speak, Dimash will soon age out of the orphanage, and then his life will be as hopeless as Jaden feels now. For the first time in his life, Jaden actually feels something that isn't pure blinding fury, and there's no way to control it, or its power.

From camels rooting through garbage like raccoons, to eagles being trained like hunting dogs, to streets that are more pothole than pavement, Half a World Away is Cynthia Kadohata's latest spark of a novel.
About the Author
Cynthia Kadohata is the author of the Newbery Medal–winning book Kira-Kira, the National Book Award winner The Thing About Luck, the Jane Addams Peace Award and Pen USA Award winner Weedflower, Cracker!, Outside Beauty, A Million Shades of Gray, Half a World Away, and several critically acclaimed adult novels, including The Floating World. She lives with her hockey-playing son and dog in West Covina, California.
Praise For Half a World Away…
"Kadohata's stunningly intimate narrative reveals a complex boy, as self-protective as he is a danger to himself, but oh so clear about the true nature of things."

"[Q]uietly powerful."

"If literary genius is composed, at least in part, by an uncanny ability to enter other worlds, then 'Half a World Away' proves Cynthia Kadohata's genius - not that there was any doubt."

"Kadohata creates an inspiring story that celebrates hope and second chances."

"Thought provoking and emotionally engaging, this is wholly satisfying."