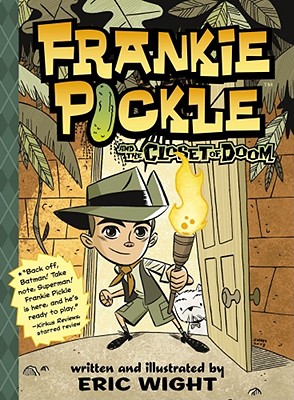 Frankie Pickle and the Closet of Doom (Paperback)
Simon & Schuster Books for Young Readers, 9781442413047, 79pp.
Publication Date: May 18, 2010
* Individual store prices may vary.
Description
"Wight's hilarious twists of language are matched with a wicked sense of fun in the illustrations and frequent sequential-paneled episodes of pretend play...Busy illustrations on every page provide appeal for new readers, especially those who love Captain Underpants, Skippyjon Jones and Ricky Ricotta." - Kirkus starred review for Frankie Pickle and the Closet of Doom Like most kids, Frankie Pickle hates cleaning his room. But what happens when his Mom says he never has to clean it again Frankie and his unstoppable imagination mean fun. He and his side-kick Argyle become explorers swinging on vines, forging paths through piles of clothes, and scooting past lava pits They perform flawless surgery on a broken action figure They spend time in the big house. They even become superheroes. But will all this imagining be enough to conquer... the closet of DOOM?
About the Author
Eric Wight's debut graphic novel, My Dead Girlfriend, was nominated for YALSA's 2008 Great Graphic Novels for Teens list. His comicbook adaptation of Michael Chabon's Pulitzer Prize-winning novel The Amazing Adventures of Kavalier & Clay helped garner the Eisner and Harvey awards for Best Anthology. He was also the ghost artist for Seth Cohen on the hit TV show The O.C.