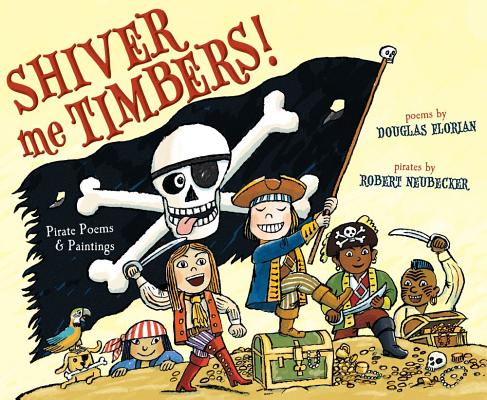 Shiver Me Timbers! (Hardcover)
Pirate Poems & Paintings
Beach Lane Books, 9781442413214, 32pp.
Publication Date: August 28, 2012
* Individual store prices may vary.
Description
Arrrgh you ready for this jaunty collection of pirate poems and paintings?

Ahoy mateys—it's time to hoist up the anchors and set sail with a pack of pesky pirates! In this hilarious collection of nineteen poems, readers will meet scoundrels, scalawags, and scurvy dogs (human and canine). They'll partake in battles, treasure hunts, and some pirate-style grub (flounder, anyone?). And all the while, picture book greats Douglas Florian and Robert Neubecker will keep pirate fans laughing from bow to stern with their signature sense of humor.
About the Author
Douglas Florian is the creator of many acclaimed picture books including How to Draw a Dragon, UnBEElievables, Poetrees, and Dinothesaurus. He lives with his family in New York.

Robert Neubecker is the author and illustrator of Linus the Vegetarian T. Rex and of his own Wow! series. He is also the award-winning illustrator of Shiver Me Timbers by Douglas Florian, Sophie Peterman Tells the Truth by Sarah Weeks, I Got Two Dogs by John Lithgow, and Monsters on Machines by Deb Lund. A graduate of Parsons School of Design, Robert also illustrates for The New York Times and Slate magazine. After twenty years in Manhattan, he and his family live in Park City, Utah. Visit Robert at Neubecker.com.
Praise For Shiver Me Timbers!: Pirate Poems & Paintings…
* "Arr! 'Tis a bonny day indeed when piratical inclinations are recorded with such florid nastiness as that found in this stellar collection of seagoing poems for salty dogs…it's hard to imagine a pirate poetry book half as much fun as the one conjured up here. It helps that along with being amusing, the poems are actually informative as well…. Bouncy verse is ably complemented by Neubecker's pitch-perfect art. His nasty (yet nicely multicultural and including both genders) rovers are always dirty, always wild and clearly having fun on every page. It's not a stretch to say that if Shel Silverstein himself were to have dabbled in the piratical he could not have come up with a better selection of scurvy doggerel than the delicious verses found here."

—Kirkus Reviews, July 15, 2012, *STAR

* "From the smiling, rollicking kids on the cover laying claim to a beach full of treasure to the shipload of fierce, sneering, plundering, cutlass-waving, face-making buccaneers, boastful of their scurrilous behavior, these pirates are a motley group. In 19 poems, they teach "Pirate Patter" and punishment and describe some less-than-appetizing meals at sea; their penchant for stealing, burying, and sometimes losing track of treasure; and their weapons…. The up- and downsides of life on a pirate ship are evident in Neubecker's bold, colorful, detail-filled cartoonlike illustrations, outlined in India ink. Kids, boys especially, will be charmed by these feisty poems."

—School Library Journal, August 2012, *STAR

"Florian provides young pirate lovers with a profusion of arrrghs and ahoy mateys, enough to keep their piratephilia alive for a long time…. Sometimes the poems veer into the deliciously disgusting…. Neubecker's digitally colored India-ink illustrations play well with the light verse. While some of the images feature close-ups of faces, many of a pirate (or just his bloodshot eyes on a black background) staring directly at the reader, there is nothing to be afraid of here, and the reader knows that these poems are balanced between light gore and outright silliness."

—Horn Book Magazine, September/October 2012