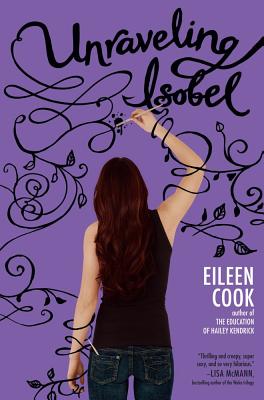 Unraveling Isobel (Hardcover)
Simon Pulse, 9781442413276, 304pp.
Publication Date: January 3, 2012
Other Editions of This Title:
Paperback (10/30/2012)
* Individual store prices may vary.
Description
A darkly comic novel that blends paranormal mystery and romance with humor, from the author of The Eductation of Hailey Kendrick and Getting Revenge on Lauren Wood.

Isobel's life is falling apart. Her mom just married some guy she met on the internet only three months before, and is moving them to his sprawling, gothic mansion off the coast of nowhere. Goodbye, best friend. Goodbye, social life. Hello, icky new stepfather, crunchy granola town, and unbelievably good-looking, officially off-limits stepbrother.

But on her first night in her new home, Isobel starts to fear that it isn't only her life that's unraveling—her sanity might be giving way too. Because either Isobel is losing her mind, just like her artist father did before her, or she's seeing ghosts. Either way, Isobel's fast on her way to being the talk of the town for all the wrong reasons.
About the Author
Eileen Cook spent most of her teen years wishing she were someone else or somewhere else, which is great training for a writer. She is the author of The Almost Truth, Unraveling Isobel, The Education of Hailey Kendrick, Getting Revenge on Lauren Wood, and What Would Emma Do? as well as the Fourth Grade Fairy series. She lives in Vancouver with her husband and dogs. Visit her at EileenCook.com.
Praise For Unraveling Isobel…
"Isobel, all snark and sharp edges covering some intense vulnerability as she continuously checks in to see if she has crossed into mental illness (as her father did when she was young), is a compelling narrator." --The Horn Book, January/February 2012

"Spine-tingling setting….Isobel's sass and her steamy romance with her new stepbrother will help readers race toward the dramatic conclusion." --Publishers Weekly

"This blend of paranormal romance, murder mystery and quirky, coming-of-age narrative offers tasty moments….Cook gives readers a fast-paced plot, a likable narrator, and interesting characters." --Kirkus

"Ideal for readers who like their stories supernatural but their dream guys human." –The Bulletin

"[Isobel] will quickly endear herself to readers. Cook combines the perfect mix of mystery and romance to create a delightfully creepy chick lit-y ghost story that will hook readers and keep them engrossed long into the night–preferably with the lights on." --SLJ

"A wonderfully creepy mystery….Snarky, funny….Will keep readers up late into the night….Exceptional." -- Shelf Awareness

"Filled with wit and humor, Unraveling Isobel draws readers in not only with romance and intrigue but also the compelling voice of a strong protagonist....The text pairs a captivating mystery with intriguing commentary on mental illness...clever prose keeps readers engaged....Isobel makes for a complex and interesting heroine, with readers certain to root for her until the very end of this simple but well-crafted mystery."--Voya

"An addicting ghost story….This will pull readers in and have them quickly turning pages."--Booklist

"[Isobel's] voice is wickedly entertaining, and she is very likeable, frank and funny." –National Post

"A fast-moving thrill-ride of a novel." –The Winnipeg Review
or
Not Currently Available for Direct Purchase