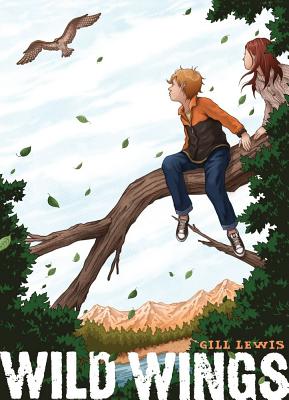 Wild Wings
Hardcover

* Individual store prices may vary.
Other Editions of This Title:
Paperback (6/12/2012)
Description
The majestic Osprey is an endangered bird that hasn't been seen in Scotland for years, so when Iona McNair locates an Osprey nest, she's desperate to keep the bird safe from poachers. She shares her secret with her classmate Callum, and the two become friends as they work to save the Osprey they've named Isis. They're able to get the bird tagged by a preservationist, but after Isis flies to Africa for the winter, her signal becomes stagnant, then lost. Spurred by a promise to Iona, who has fallen ill, Callum is determined to track and save Isis, and a leap of faith and the magic of e-mail connects him with a girl in Gambia who can help him make good—in more ways than one.

Set against the dramatic landscapes of Scotland and West Africa, this is a timeless tale of hope and friendship—a heartwarming novel infused with the beauty of nature.
Praise For Wild Wings…
Wild Wings

By Gill Lewis



Though Callum first sees Iona as an intruder on his family's farmland, she reveals a secret that overcomes his reluctance to befriend her: she's discovered a rare osprey aerie. For months, they watch a pair of raptors and their chicks until it's nearly time for the birds' migration to Africa. Keeping his closeness with Iona as deep a secret as the endangered ospreys' nest, Callum begins to draw away from his other friends at school. After a shocking event, he gradually learns not only that he needs them, but also that he can depend on them and the rest of his village community more than he knew. Set in contemporary Scotland, this engaging novel is built on a solid foundation of characters who respond realistically to people and experiences. Even the minor characters are well drawn and convincing, and the interplay of individuals from different generations is portrayed with unusual finesse. A strong ecological theme runs through the novel, as the characters together work to protect one of the ospreys, even tracking an electronically tagged bird's journey to Africa and finding allies to rescue her when she's in danger. Full-page drawings, not seen in final form, will illustrate this vividly imagined and well-written novel.

--Booklist, March 1, 2011, *STAR

Striving to protect the osprey nesting on his family's farm in Scotland, 11-year-old Callum McGregor watches the bird throughout summer, uses a computer to follow her migration to Africa and sets in motion a remarkable chain of events. This rich, moving tale begins with a shared secret: It was classmate Fiona McNair who found the nest. When the bird is snagged in fishing line high in her pine, the circle expands to include Callum's sheep-farming family and a ranger from a nearby preserve. When she migrates, Callum and friends Rob and Euan track her through the transmitter she carries on her back. When her signal disappears in a Gambian mangrove forest, 10-year-old Jeneba, hospitalized with broken legs, mobilizes the fishermen of her village and a visiting American doctor to rescue and rehabilitate her. Eventually—and entirely naturally—the bird's story reaches around the world. The suspenseful story line is surrounded with precise details: the Scottish landscape, osprey behavior, the work of a sheepdog and the joy and pain of riding a trail bike. Short chapters, some with cliffhanging endings, will read aloud well. Callum's first-person narrative is occasionally paralleled by the osprey's own experience, as Callum imagines it. With universal themes of life and death, friendship and respect for the natural world, this is still quite particular, a powerfully memorable story of a boy's grief and determination to keep a promise. - KIRKUS, March 1, 2011 *STAR

Wild Wings
Written by Gill Lewis and illustrated by Yuta Onada

(Atheneum; ISBN: 9781442414457; May 2011; Spring catalog p. 68)

The worlds of two villages in Scotland and the Gambia intersect through modern technology and the determined efforts of children to save an injured osprey. When 11-year-old Iona moves in with her elderly grandfather, who is considered a "nutter," most children ostracize her. But an unlikely friendship develops between Iona and her classmate Callum after she shares her discovery of an osprey nest on his farm. Knowing ospreys are endangered, they keep Iris's existence secret until a fishing line entangles her, forcing them to seek help. A naturalist saves Iris and tags her, allowing the children to track her flight from Scotland to Africa online. In her first novel, picture book author Lewis (The Most Precious Thing) deftly explores painful divisions within friendships and communities, which lead to broken relationships and unexpected tragedies, as well as surprising connections made across barriers of culture and distance when one person's passion inspires acts of generosity, kindness, friendship, and hope. Callum narrates most of the story, though several short chapters share Iris's perspective in this unsentimental and powerfully moving tale. Final art not seen by PW. Ages 8–12.

--Publishers Weekly, March 14, 2011, *STAR
Atheneum Books for Young Readers, 9781442414457, 304pp.
Publication Date: May 24, 2011
About the Author
Gill Lewis is the author of the critically acclaimed Wild Wings and One White Dolphin, both winners of the Green Earth Book Award, as well as Moon Bear, Gorilla Dawn, and Scarlet Ibis. A veterinarian, her love of animals and the natural world plays a big part in her writing. She lives in the UK.
or
Not Currently Available for Direct Purchase