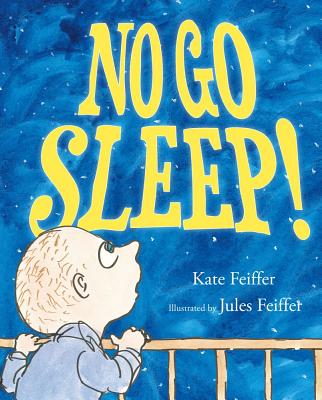 No Go Sleep!
Hardcover

* Individual store prices may vary.
Description
A baby—finally—falls asleep with the rest of the world in this soothing picture book from Kate and Jules Feiffer.

And the sun said,
"I've gone for the day.
When you wake up,
I'll be back to play."

Even though the stars are out and the moon is bright, the baby says, "No, go, sleep!" But as the world around the baby gradually goes to sleep—first the sun, then the moon, then the sheep, tree, and owl—the baby finally, finally, finally falls asleep too. Lyrically written, this lulling text, paired with soothing art, will put even the youngest reader in the mood to visit dreamland.
Praise For No Go Sleep!…
No Go Sleep!
Kate Feiffer, illus. by Jules Feiffer. S&S/Wiseman, $16.99 (32p) ISBN 978-1-4424-1683-3

"No go sleep!" insists a baby, and clearly his parents aren't going to change his mind. But the rest of the world is more than ready to call it a day, and celestial bodies, nearby animals, a car driving down the street, and even the front door give it the old college try. "When you wake up, I'll be back to play," promises the sun. "Who? Yes me," pledges the owl. "I'll stay awake and watch over you." "No!" says the stubborn baby, seemingly immune to this cosmic persuasion, though his eyes say otherwise. Kate Feiffer, who last collaborated with her father on My Side of the Car, has written the perfect go-to book for the go-to-sleep impaired. With its lulling tone and gentle, comic cajoling, it has nightly must-read written all over it. Jules Feiffer's legendary ink lines beautifully capture a nascent human in all his lumpy discontent. Especially revelatory is how he conjures up the beauty of a starry, marine-blue night and all the creatures and things that go into making the world reassuringly benevolent. Ages 3–7.

--Publishers Weekly, January 2, 2012, *STARRED REVIEW

NO GO SLEEP!
Author: Feiffer, Kate
Illustrator: Feiffer, Jules

Father and daughter Feiffers deliver a bedtime book underscoring the notion that sometimes only pure exhaustion will lull a baby to sleep.

When the blue pajama'ed baby announces "No go sleep," he means it. Page after page of reassurances from parents, the setting sun, the watchful moon, bunnies, owls and even a car driving by saying "Beep, beep, sleep, sleep" are all for naught. The text's lilting cadence coupled with the cool, nighttime palette might make readers expect the baby to acquiesce, but he's not one to fall for such standard bedtime-book ploys. When the mommy says, "Please go to sleep," in a left-hand illustration depicting her leaning over the crib of a calm but still wide-awake baby, the facing page shows baby simply and firmly responding, "NO!" Funny in and of itself after such a long build-up of gentle reassurances, the humor of this blunt refusal is enhanced by Jules Feiffer's picture of the baby, no longer calm and wide-eyed, but downright irascible and rigid in his adamant, wakeful state. But a page turn brings us to baby immediately closing his eyes anyway and falling fast asleep.

A clever, funny addition to the bedtime-book shelf. (Picture book 2-5)
Kirkus Reviews, January 15, 2012

No Go Sleep!
Feiffer, Kate (Author) , Feiffer, Jules (Illustrator)
Mar 2012. 32 p. Simon & Schuster/Paula Wiseman, hardcover, $16.99. (9781442416833).

Father and daughter Jules and Kate Feiffer have joined forces again, with this traditional-feeling bedtime
story. A restless baby proclaims, "No go sleep!" Mommy and Daddy offer quiet words of encouragement
to no avail, and even the sun, the moon, the bunnies, the owls all try to allay the baby's fears. Page after
page of friends, animate and inanimate, offer their own personal promises of safety and security—the stars
say, "We'll twinkle and sprinkle sweet dreams down to you." The baby, unconvinced, says, "NO!" but
soon closes his eyes and falls asleep. Kate Feiffer's deceptively simple text, occupying a narrow band at
the bottom of each page, establishes a remarkable variety of characters in a few spare, convincing words.
The homey quality of Jules Feiffer's almost mussy illustrations reflects the baby's fidgety unease, while
careful use of color and light evoke the coming tranquility of dusk. Peppered with bits of irreverent,
contemporary whims, the story's repetitive pattern will lull little ones to sleep, night after night.

--Booklist, February 15, 2012

No Go Sleep!
by Kate Feiffer; illus. by Jules Feiffer
Preschool Wiseman/Simon 32 pp.
3/12 978-1-4424-1683-3 $16.99

Everybody wants the baby to close his eyes and go to sleep, not just the mommy and daddy, but the sun, the moon, the stars, the door, the animals just outside baby's window, the indoor animals, even baby's toys and shoes ("We're just too tired to walk another step. Good night"). Each one reassures Baby that all is well and that everything will still be in place when it awakens. But Baby stubbornly insists "No go sleep!" before finally closing its eyes and, quickly, succumbing. The text sounds like a game a clever parent would devise to lull a baby to sleep; structurally the narrative seems to have been inspired by Margaret Wise Brown in that it's composed of a long series of sentences each beginning with the word and. The sketchy lines of the cartoon illustrations are classic Jules Feiffer, showing the baby with eyes wide open and limbs stretched toward the world beyond the crib. Bedtime blues and greens predominate in the watercolor washes over the pen-and-ink lines, so even the pictures are joining in the go-to-sleep chorus.

--The Horn Book, March/April 2012

Feiffer, Kate
No Go Sleep!; illus. by Jules Feiffer. Wiseman/Simon, 2012 30p ISBN 978-1-4424-1683-3 $16.99 R 3-5 yrs

A determined toddler refuses to go to sleep, leading to a string of attempts to convince him: first from his mother ("It's time for you to close your eyes and think sweet thoughts"), then his dad ("Put your head down and fall fast asleep"), then the sun, the moon, the stars, a passing car, an assortment of local fauna, the front door of the house, the family dog, some toys, and, finally, the mommy once again ("Please go to sleep"). Despite the fact that they all stand by the assertion that it is time for the tot to rest, he still refuses . . . until, after one final "NO!" his eyes unwillingly close and he drifts off to sleep. There is a nice variety in reasoning presented by the various speakers, from the moon who ensures the baby that he'll "keep the night light" to the goldfish who promise not to swim away to the teddy bear who is ready for a snuggle, and the gentle storyline offers lots of bedtime appeal. Feiffer uses brush, ink, and watercolor markers to create loopy, swirly compositions that sing with his familiar springy informality but still effectively convey the changing poses of a baby moving from resistance to capitulation. While younger listeners will simply appreciate the gentle lilting of the text, older listeners may enjoy contemplating what other voices might join in on the litany of bedtime encouragement.

--The Bulletin of the Center for Children's Books, April 2012

FEIFFER, Kate. No Go Sleep! illus. by Jules Feiffer. 32p. CIP. S & S/Paula Wiseman Bks. 2012. Tr $16.99. ISBN 978-1-4424-1683-3. LC 2010033776.
PreS-K–In this charming picture book, a baby speaks only a few words. But babies don't have to say much to have the world revolve around them. The parents' gentle nudges toward bedtime fall flat, so the sun steps in, saying, "I've gone for the day. When you wake up, I'll be back to play." Baby, still wide-eyed and frenetic, then hears from the moon, stars, a car, birds, frogs, bunnies, an owl, a tree, sheep, and various creatures and things inside the house, each closer and closer to the crib and its fretful occupant. Jules Feiffer's wonderful, mildly zany informality warms every image, and he super-soaks the pages in deliciously intense watercolors. Some of the text is lilting, some quirky; unlike Goodnight Moon, for instance, this isn't a lullaby in disguise. Will the book ease a child to sleep? Maybe, maybe not. What it will do is distract and entertain–and maybe even cheer up the weary adults who find themselves in a similar situation.–Susan Weitz, formerly at Spencer-Van Etten School District, Spencer, NY
School Library Journal, May 2012 *STARRED

The father-and-daughter team behind "My Side of the Car" reunite here for the story of a determinedly restless baby. When the defiant child yells from his crib, "NO go sleep!," everyone from his mother to the moon chimes in to comfort and cajole him into changing his mind. "And the stars, 'We will twinkle and sprinkle sweet dreams down to you.'" Kate Feiffer's straightforward prose and clever, humorous story speak to Everybaby, and Jules Feiffer's jangly-limbed, blue-eyed boy, illustrated in pen-and-ink with washes of blue watercolor, is adorability incarnate.

--New York Times Book Review, May 13, 2012
Simon & Schuster/Paula Wiseman Books, 9781442416833, 32pp.
Publication Date: March 6, 2012
About the Author
Kate Feiffer is a writer, a filmmaker, and a mother. She is the author of the picture books No Go Sleep!; President Pennybaker; But I Wanted a Baby Brother!; The Wild, Wild Inside; Which Puppy?; My Mom Is Trying to Ruin My Life; and Double Pink; and of the middle-grade novels Signed by Zelda and The Problem with the Puddles. She lives with her family on Martha's Vineyard, Massachusetts. Visit her at KateFeiffer.com.

Jules Feiffer has won a number of prizes for his cartoons, plays, and screenplays, including the Pulitzer Prize for editorial cartooning. Among the books he's illustrated for children are The Phantom Tollbooth, Some Things Are Scary, and in collaboration with his daughter Kate, Henry the Dog with No Tail, and No Go Sleep. He is the author and illustrator of Bark, George, I Lost My Bear, Meanwhile, and The Man in the Ceiling.
or
Not Currently Available for Direct Purchase