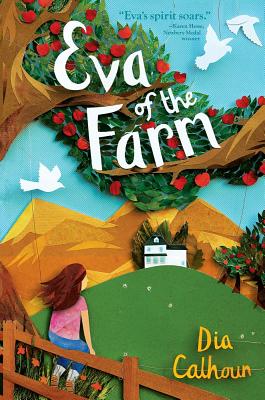 Eva of the Farm
Hardcover

* Individual store prices may vary.
Other Editions of This Title:
Paperback (7/9/2013)
Description
A girl's struggle to save her family's farm, told in verse, stands as a testament to the power of hope.

Twelve-year-old Eva DeHart knows her family's farm is the best, most magical place in the whole world. The Farm has apple trees and sun daisies and a creek. The Farm has frightening things too—like cougars, bears, and a dead tree that Eva calls the Demon Snag. And everything at the Farm shoots out of Eva's fingertips into her poems. She dreams of being a heroine of shining deeds, but who ever heard of a heroine-poet?

When a blight strikes the orchard and a letter from the bank arrives marked FORECLOSURE, Eva is given that very chance as she puts all the power of her imagination at work to save the Farm. From a booth at the farmer's market to the snowbound hills where the coyotes hunt, Eva discovers that we face our fears and find our courage in the most unexpected places.

This novel by acclaimed author Dia Calhoun is about the transforming powers of imagination and hope, which can turn us all into heroes.
Praise For Eva of the Farm…
"Eva's spirit soars."--Newbery Medalist Karen Hesse

"Named after Henry Wadsworth Longfellow's heroine from his epic poem Evangeline, 12-year-old Eva lives on her family's beloved Acadia Orchard in Eastern Washington. In this beautiful, tightly woven novel in verse, which follows the progression of the seasons, she may have to leave her idyllic home, just like her namesake. As Eva plucks words from the world around her—'They are warm, / as though sprinkled / with all the spices of the sky'—her 'plant a forest, save a polar bear' father only sees the value of math, science and economics. Their rift grows wider when a blight starts the ripples of foreclosure. Eva begins to blame their mounting misfortunes on a blackened tree in the canyon known as the Demon Snag and the evil it must be emitting. Forming a fierce bond with the local Bead Woman, who's encountered her own tough times, the resilient girl not only discovers a kindred artist, but the power of imagination, hope and even poetry to save her farm—and spirit. Calhoun doesn't shy away from Eva's reality, offering snapshots of the cycle of life, including a baby deer ripped from its mother's womb. Although Eva's poetry far surpasses most experienced poets, the effect leaves readers with splendid images to savor.
Fans of Karen Hesse will welcome this partner in poetry."
--Kirkus Reviews, May 15, 2012

"The beautifully composed language slowly relays Eva's journey through the realities of adult problems, and intuitive readers will appreciate the lyrical and metaphorical imagery. Collagelike illustrations introduce each section. This text offers much to prompt discussion and poetry writing."
–School Library Journal

Twelve-year-old Eva (Evangeline) loves her life on the family orchard in Washington State, loves her baby brother Achilles, and loves to write poetry. Indeed, writing poetry is Eva's way of making sense of her world, as she writes about how much she misses her grandmother and her former best friend, Chloe, and how she worries that her family will lose their farm that, to her, is utterly magical. This last worry is not an idle one, as a events soon put Eva's family in dire financial straits.

However, Eva's poetry, a newfound adult friend, and Eva's own strength bolster her through this difficult time, and although the story ends with the farm's ownership still in limbo, there is a feeling of hope and possibility as well.... The potentially hopeful but ultimately unresolved ending is also refreshing, and kids who have also faced financial uncertainty may especially relate to Eva's family's plight.

Bulletin of the Center for Children's Books
Atheneum Books for Young Readers, 9781442417007, 256pp.
Publication Date: July 10, 2012
About the Author
Dia Calhoun is the author of Eva of the Farm and After the River the Sun as well as the fantasy novels Avielle of Rhia, The Phoenix Dance, White Midnight, Aria of the Sea, and Firegold. She makes frequent school visits, sings Italian arias, fly-fishes, gardens, and eats lots of chocolate in her spare time. She lives with her husband, two cats, and two ghost cats in Tacoma, Washington.
or
Not Currently Available for Direct Purchase