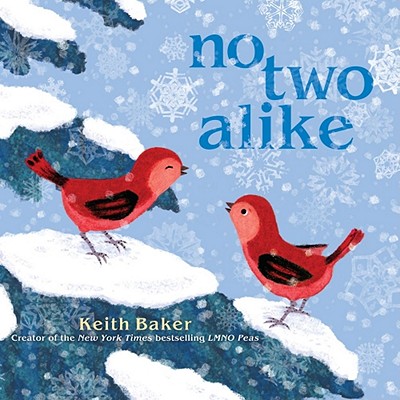 No Two Alike (Hardcover)
Beach Lane Books, 9781442417427, 32pp.
Publication Date: November 1, 2011
Description
No two snowflakes are alike,
almost, almost . . .
but not quite. Follow a pair of birds on a snowflake-filled journey though a gorgeous winter landscape to explore how everything, everywhere is wonderfully unique--from branches and leaves to forests and trees to friends and loved ones.
Praise For No Two Alike…
"The engaging, digitally rendered avian characters stand out against the wintry landscape, and their many antics as they navigate their surroundings will sustain readers' interest. They loop-the-loop through the falling snow, tightrope walk on branches, ski on twigs, and knock snow off fence posts. Children will readily join in the reading to supply each ending rhyme."
--School Library Journal, September 2011



"With spare verse and a quiet, winter landscape, Baker (LMNO Peas) presents an ode to uniqueness, particularly as it pertains to nature.... Baker's digital artwork conveys a sense of painterly softness and warmth, and children should appreciate the gentle self-esteem boost that comes with the reassurance that they are one of a kind."
--Publishers Weekly, October 3, 2011


*"The poetry and pictures here express the idea of individuality with an irrepressible, childlike sense of joy. Accessible to very young children, the verse reads aloud beautifully, with just a phrase or two on each spread. Created with subdued colors and strong composition, the double-page digital illustrations create a powerful sense of place and season while offering details for young children to notice and talk about. Baker's seamless combination of well-worded rhymes, evocative landscapes, and playful protagonists make this a standout title for reading aloud, especially in winter."
--Booklist, November 1, 2011, *STAR



"A cheerful celebration of individuality, with clever rhymes and engaging art sure to appeal to little ones."
--San Francisco Chronicle, December 25, 2011



"In a thoughtfully structured picture book, two little red birds explore a snowy landscape, while a rhyming text draws listeners into looking carefully at the pictures to find similarities and differences between things.... Baker includes many funny scenes, with the mischievous birds stockpiling snowballs as a fox walks warily by in one spread and fishing with berry-bait in another."
--The Horn Book Magazine, January/February 2012



"Spare, rhymed couplets, quiet and gentle, tell the story, while the digitally produced artwork, bright and cheerful, takes off winter's chill….This lovely testimony to how special and unique each of us is will enhance a preschooler's self-esteem."
—The Plain Dealer (Cleveland, OH), March 4, 2012
Advertisement