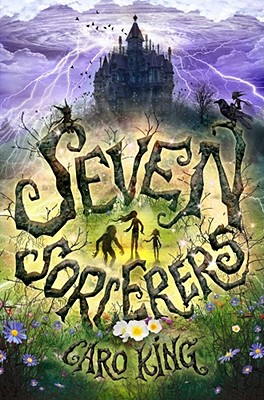 Seven Sorcerers
Hardcover

* Individual store prices may vary.
Other Editions of This Title:
Paperback (5/1/2012)
Paperback (1/7/2010)
Description
"Nin had never liked Wednesdays, but this one took the cake. On this Wednesday she woke up to find that it was raining buckets and that her little brother had ceased to exist." Nin Redfern wakes up one Wednesday to discover that her little brother, Toby, has vanished and no one -- not her mother, not her grandparents -- can remember him. Only Nin can, and she's going to get him back. But when Bogeyman Skerridge (who always gets his child) comes for Nin too, she realizes that finding Toby is going to be a lot harder then she thought. Toby is trapped in the House of Strood, which is located in another land called The Drift, and Skerridge can't -- or won't -- help her find him. Left with no choice, Nin heads into The Drift with her new friend Jonas. The Drift is filled with the fabulous and the terrible, but a plague is slowly killing all the magical things. The Seven Sorcerers who ruled there might have been able to prevent it, but in the end, even they have succumbed. Can Nin find Toby before he falls victim to a terrible fate in the House of Strood and before the plague makes it impossible for them to get home? Can she and Jonas avoid the tombfolk, mud men, and various creatures who want to stop them? And what is the secret of the Seven Sorcerers?
Praise For Seven Sorcerers…
"With her debut novel, published in England in 2009, King demonstrates the whimsy, melancholy, and matter-of-fact coping with horror that characterizes classic British children's literature...The telling is energetic and absorbing... and readers stateside ought to be eager for it.
-Publishers Weekly, March 2011

"King has written a complex, intelligent fantasy that is at turns funny and terrifying. Nin faces outrageous odds, but she is unequivocally convincing as someone who can beat them... readers will hope that the sequel, already available in the UK, is not too long in arriving on our shores."

BOOKLIST, May 2011



"There's no shortage of imagination here overall, but the true stars of this British import are the villains: complete with razor-sharp teeth and a Cockney accent, Skerridge, the aforementioned Bogeyman (or BM for short) is both deliciously frightening and oddly endearing, and readers will cheer when Nin's steadfast courage persuades the erstwhile baddie to make the switch from evil to good. On the other hand, Strood, a monster created from an act of selfish depravity by the Seven Sorcerers, is a bad guy easy to hate... readers will breathlessly await the next installment from across the pond."

-Bulletin of the Center for Children's Books, September 2011
Aladdin, 9781442420427, 352pp.
Publication Date: May 3, 2011
About the Author
CARO KING was born in London and raised in Surrey where she lives with her partner, Kevin. She studied art and works at the Home Office. Seven Sorcerers came from a rainy lunchtime when she began mapping out the world of the Drift. Skerridge and his waistcoat came later.
or
Not Currently Available for Direct Purchase