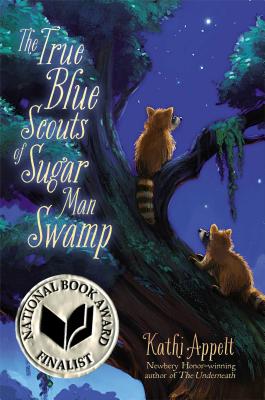 The True Blue Scouts of Sugar Man Swamp
Paperback

* Individual store prices may vary.
Other Editions of This Title:
Digital Audiobook (7/22/2013)
Hardcover (7/23/2013)
CD-Audio (7/23/2013)
Description
"Librarians often say that every book is not for every child, but The True Blue Scouts of Sugar Man Swamp is" (The New York Times). Meet Bingo and J'miah, raccoon brothers on a mission to save Sugar Man Swamp in this rollicking tale and National Book Award Finalist from Newbery Honoree Kathi Appelt.

Raccoon brothers Bingo and J'miah are the newest recruits of the Official Sugar Man Swamp Scouts. The opportunity to serve the Sugar Man—the massive creature who delights in delicious sugar cane and magnanimously rules over the swamp—is an honor, and also a big responsibility, since the rest of the swamp critters rely heavily on the intel of these hardworking Scouts.

Twelve-year-old Chap Brayburn is not a member of any such organization. But he loves the swamp something fierce, and he'll do anything to help protect it.

And help is surely needed, because world-class alligator wrestler Jaeger Stitch wants to turn Sugar Man swamp into an Alligator World Wrestling Arena and Theme Park, and the troubles don't end there. There is also a gang of wild feral hogs on the march, headed straight toward them all.

The Scouts are ready. All they have to do is wake up the Sugar Man. Problem is, no one's been able to wake that fellow up in a decade or four…

Newbery Honoree and Kathi Appelt's story of care and conservation has received five starred reviews, was selected as a National Book Award finalist, and is funny as all get out and ripe for reading aloud.
Praise For The True Blue Scouts of Sugar Man Swamp…
* "This delicious, richly detailed story is told in 104 short chapters, which swing the plot beautifully from one thread to the next and keep the action moving. Appelt's omniscient third-person narration exudes folksy, homespun warmth while also feeling fresh and funny. A satisfying romp."
— Booklist, STARRED REVIEW

* "In a honeyed dialect, the omnipresent narrator directly engages readers, ricocheting between the hilarious human and critter dramas to a riotous finale. A rollicking, ripping tall tale with ecological subtext."
— Kirkus Reviews, STARRED REVIEW

"Appelt 'nailed it.' She has weaved a delightful yarn with a cast of affable characters and somehow manages to make a rusted 1949 DeSoto in a Louisiana swamp a cozy home for two raccoon scouts--absolutely charming."
— Harry Bliss, New Yorker illustrator and illustrator of Diary of a Worm

"Kathi Appelt's amazing lyrical language with that perfect Southern cadence draws us deeper and deeper into the world of Sugar Man Swamp. Hilarious and heartfelt, Bingo and J'Miah draw you into their home, into the swamp and we care about each creature as though they are family."
— An Na, author of the Michael L. Printz Award-winning and National Book Award finalist A Step from Heaven

* "Told from the perspectives of animals and humans, Appelt's (The Underneath) rollicking tall tale exposes the trouble brewing in Sugar Man swamp. The main concern of Bingo and J'miah, two raccoon Swamp Scouts, is the approaching brood of feral hogs, which could destroy the precious canebrake sugar used to make fried pies at the local Paradise Pies cafe. Meanwhile, 12-year-old Chap Brayburn, the cafe proprietor's son, is worried about rich, horrible Sonny Boy Beaucoup, who wants to turn the swamp into the "Gator World Wrestling Arena and Theme Park." The swamp's salvation may lie with the furry, bearlike Sugar Man, whose "hands were as large as palmetto ferns" and "feet were like small boats," but finding and awakening him is no easy task. The book's folksy narrative adds brightness and humor to the story as Appelt explores the swamp's rich history, varied denizens, and current threats. Heroes and villains are drawn in bold strokes, but while there's little doubt who will emerge victorious, finding out how events unfurl is well worth the read."
— Publishers Weekly, STARRED REVIEW

* "Appelt returns with a rich tale set deep in a Texas swamp, full of critters including gators, rattlesnakes, and feral hogs. Brothers Bingo and J'miah are true-blue scouts (raccoons) who have set up house in an abandoned old DeSoto, adorning it with their artwork and following orders from the Voice of Intelligence (actually the lightning-enabled car radio). The young raccoons are affable and easy to root for as they attempt to stop the gang of wild hogs intent on destroying their beloved Muscovado sugar cane…. Appelt has adeptly intertwined the folksy narrative of a tall tale with a perfect blend of adventure and mystery, all the while subtly bringing an ecological message to the surface."
— Library School Journal, STARRED REVIEW

*"As with her Newbery Honor book The Underneath, Kathi Appelt sets this captivating web of interconnected stories in the ancient forests of piney trees and integrates the alluring lore of the bayou. But she adopts a lighter voice, just right for a storyteller with a Southern drawl to read aloud.

Deep in the Sugar Man Swamp, raccoons Bingo and J'miah serve as Information Officers from the safety of a 1949 DeSoto. Whenever lightning strikes nearby, it triggers "the Voice of Intelligence" (children will quickly realize it's a radio) that often gives them orders. Chap, the 12-year-old grandson of Audie Brayburn, makes it his mission to find his grandfather's DeSoto and complete his quest of locating the Ivory-billed Woodpecker. Ever since Audie's recent death, Sonny Boy Beaucoup, "the official owner" of the swamp, has threatened to run Chap and his mother out of their Paradise Pies Café, so that he can set up a theme park. The local radio announcer's daily sign-off bids "all you swamp critters to have a good day and a good idea," and each character gets at least one.

Appelt weaves the rich language of legends passed down through generations. The Ivory-billed Woodpecker is as mythical as the Sugar Man. She carries weighty themes lightly, and spins a story that reminds us that kin extends beyond the prescribed family tree. By the end of the story, we understand that that includes "all the swamp critter." As Audie told Chap, they are paisanos, fellow countrymen. They come from the same soil. --Jennifer M. Brown, children's editor, Shelf Awareness

Discover: Newbery Honor author Appelt's return to the bayou setting of The Underneath, with a lighter touch and an environmental theme."
— Shelf Awareness, STARRED REIVEW

"Librarians often say that every book is not for every child, but THE TRUE BLUE SCOUTS OF SUGARMAN SWAMP is."
— The New York Times, July 14, 2013

"Some books for young readers perfectly capture childhood...Ms. Appelt has a genius for causing disparate narrative elements to cohere suddenly and movingly, and her talent is on full display in this zestful romp for 8- to 12-year-olds."
— Wall Street Journal, July 19, 2013
Atheneum Books for Young Readers, 9781442421080, 352pp.
Publication Date: May 20, 2014
About the Author
Kathi Appelt is the author of the Newbery Honoree, National Book Award finalist, and bestselling The Underneath as well as the National Book Award finalist The True Blue Scouts of Sugar Man Swamp, Maybe a Fox (with Alison McGhee), Keeper, and many picture books including Counting Crows and Max Attacks. She has two grown children and lives in College Station, Texas, with her husband. Visit her at KathiAppelt.com.