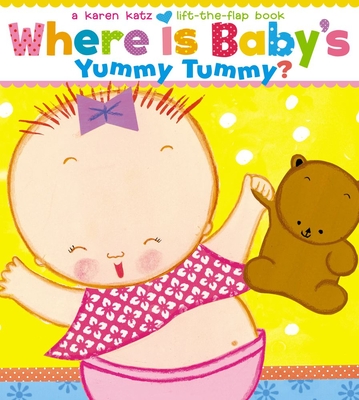 Where Is Baby's Yummy Tummy? (Board Books)
Little Simon, 9781442421653, 14pp.
Publication Date: August 2, 2011
Description
The long-awaited companion title to Karen Katz's bestselling Where Is Baby's Belly Button?. Where is baby's tummy that's oh, so yummy?
Under the teddy bear

Little ones will love lifting the large, sturdy flaps in this book to reveal Baby's pretty nose, sweet feet, yummy tummy, and more This new gem from Karen Katz is sure to be a year-round favorite for younger readers.
Praise For Where Is Baby's Yummy Tummy?…
Where Is Baby's Yummy Tummy?
Karen Katz. Little Simon, $6.99 (10p) ISBN 978-1-4424-2165-3
Katz's characteristically chubby and happy babies are at the center of this peek-a-boo book. "Where are baby's feet/ that are/ good enough/ to eat?" asks the opening spread. The answer (and the feet) are revealed under a floral flap ("Under the blanket!"). A gleeful baby's knees are behind a colorful beach ball, and a baby's "tushy/ that's soft/ and smooshy" peeks out from under the baby's diaper. A tender way for parents to bond with their infants. Ages 1–4.
--Publishers Weekly, June 20, 2011



WHERE IS BABY'S YUMMY TUMMY? [STARRED REVIEW!]
Author: Katz, Karen
Illustrator: Katz, Karen
This peek-a-boo provides a stellar examination of the human body.
An encouraging voice calls for the location of each sweet and cuddly body part. Beginning with the toes, each gentle question follows a consistent rhyming format. From feet "good enough to eat" to a nose "as pretty as a rose," tykes of various ethnicities play an active role in their exploration. The perspective zooms in on the jovial babes, giving them every inch of each page. Katz's signature solid spreads incorporate clean patterns with light details. The strategic flaps placed in different corners use objects commonly found in daily life (blanket, teddy bear) to fully hide each featured choice. The coy text playfully calls for audience participation. "Where is baby's tushy / that's soft and smooshy?"; a naked behind peeks from underneath a diaper when the flap is pulled down. The final example highlights the youngster's entire form.
Kirkus Reviews, December 15, 2011
Advertisement