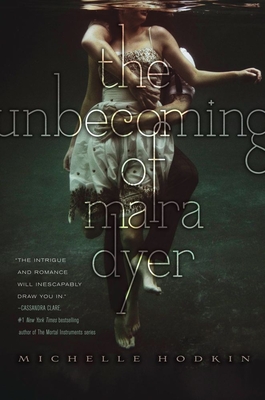 The Unbecoming of Mara Dyer (The Mara Dyer Trilogy #1)
Hardcover

* Individual store prices may vary.
Other Editions of This Title:
Paperback (10/23/2012)
MP3 CD (6/21/2016)
Description
Mara Dyer doesn't know if she is crazy or haunted—all she knows is that everyone around her is dying in this suspenseful and "strong, inventive tale" (Kirkus Reviews).

Mara Dyer doesn't think life can get any stranger than waking up in a hospital with no memory of how she got there.
It can.
She believes there must be more to the accident she can't remember that killed her friends and left her mysteriously unharmed.
There is.
She doesn't believe that after everything she's been through, she can fall in love.
She's wrong.

After Mara survives the traumatizing accident at the old asylum, it makes sense that she has issues. She lost her best friend, her boyfriend, and her boyfriend's sister, and as if that weren't enough to cope with, her family moves to a new state in order to give her a fresh start. But that fresh start is quickly filled with hallucinations—or are they premonitions?—and then corpses, and the boundary between reality and nightmare is wavering. At school, there's Noah, a devastatingly handsome charmer who seems determined to help Mara piece together what's real, what's imagined—and what's very, very dangerous.

This fast-paced psychological—or is it paranormal?—thriller will leave you breathless for its sequel, The Evolution of Mara Dyer.
Praise For The Unbecoming of Mara Dyer (The Mara Dyer Trilogy #1)…
"Haunting and dreamlike, the intrigue and romance of Mara Dyer will inescapably draw you in." --Cassandra Clare, author of the New York Times bestselling Moral Instruments series

"The Unbecoming of Mara Dyer strikes a rare balance of darkly funny, deliciously creepy and genuinely thoughtful. One minute I was laughing out loud, and the next, I was so scared I wanted to turn on all the lights and hide under the covers. Michelle Hodkin's talent and range are obvious, from her chilling descriptions to romantic scenes that almost crackled on the page. I've never read anything quite like it."--Veronica Roth, New York Times bestselling author of Divergent

"A clever, captivating thriller, The Unbecoming of Mara Dyer is perfect for those (like me) who like their heroes dark, their heroines dangerous, and their romances seriously twisted."
--Kirsten Miller, New York Times bestselling author of The Eternal Ones

"WOW. Michelle Hodkin's debut will keep you guessing until the last page--and long after."
--Beth Revis, New York Times bestselling author of Across the Unviverse

"As spooky and twisty as it is lyrical and beautiful, The Unbecoming of Mara Dyer grabbed me and wouldn't let go. Read this one with the lights on." --Rachel Hawkins, New York Times bestselling author of Demonglass


"A strong, inventive tale."
--Kirkus Reviews, August 1, 2011

Hodkin's debut is witty and thought-provoking and will have readers captivated until the very end. It takes readers through constant chaos, wonder, and bewilderment...The Unbecoming of Mara Dyer will satisfy mystery lovers, dark fantasy seekers, horror believers, and readers who have a knack for romance.
VOYA, October 2011

There are echoes of Stephen King's classic Carrie in this young-adult series kickoff...Written from Mara's perspective, The Unbecoming deftly melds alternate realities. Hodkin's transitions from the mundane to hallucinated horror are unexpected, seamless and creepy, packing the same sort of cinematic punch as scenes from The Blair Witch Project....Discerning the truth is just part of the pleasure of reading the delightfully bent reality in The Unbecoming of Mara Dyer.
--Los Angeles Times


"Anyone who thinks old-fashioned romantic scenes can't move teens today will be proven wrong here. This boy will make readers swoon. The characters are real and wonderful, and the supernatural story is riveting. Expect this book to fly off the shelves."
--SLJ

"Creepy, haunting, addictive and surprisingly romantic, Mara's story is beautiful and complex...Hodkin has elevated the teenage paranormal romance into something completely her own."
--Romantic Times

"First-time author Hodkin has paired a steamy romance with a paranormal mystery that will cause teen readers whiplash as they jerk from one plot twist to another."
--Booklist

"It's the story of a girl trying to piece together what happened the night she, her best friend, her boyfriend and his sister spent the night in an abandoned asylum and only she survived, unscathed but traumatized…And it's the story of a girl falling in love…Be careful, 'cause you'll fall right along with her."
--MTV's Hollywood Crush

Simon & Schuster Books for Young Readers, 9781442421769, 464pp.
Publication Date: September 27, 2011
About the Author
Michelle Hodkin grew up in Florida, went to college in New York, and studied law in Michigan. She is the author of the Mara Dyer and Noah Shaw trilogies. Visit her online at MichelleHodkin.com.
Book Videos