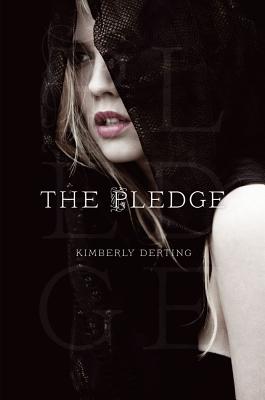 The Pledge (The Pledge Trilogy) (Paperback)
Margaret K. McElderry Books, 9781442422025, 352pp.
Publication Date: October 30, 2012
Other Editions of This Title:
Hardcover (11/15/2011)
MP3 CD (5/10/2016)
Paperback (3/1/2012)
* Individual store prices may vary.
Description
A "gripping dystopian fantasy" (Kirkus Reviews) that brims with romance and suspense, from the author of The Body Finder.

In the violent country of Ludania, the language you speak determines your class, and there are harsh punishments if you forget your place—looking a member of a higher class in the eye can result in immediate execution. Seventeen-year-old Charlaina (Charlie for short) can understand all languages, a dangerous ability she's been hiding her whole life. The only reprieve from oppression is within the drug-filled underground club scene. There, she meets a beautiful and mysterious boy who speaks a language she's never heard, and her secret is almost exposed. As the violent clashes between the totalitarian monarchy and the rebel forces escalate, it becomes clear that Charlie is the key to something much bigger: her country's only chance for freedom from the terrible grip of a deadly regime.
Kimberly Derting, author of The Body Finder series, writes powerfully and movingly of a girl with dangerous powers in an unusual and expertly crafted setting.
About the Author
Kimberly Derting is the author of The Pledge series and the Body Finder series. She lives in Washington State. Visit her at KimberlyDerting.com.
Praise For The Pledge (The Pledge Trilogy)…
"A girl reluctantly faces her destiny in this gripping dystopian fantasy. Derting (Desires of the Dead, 2011, etc.) keeps her story consistently engaging through vivid description and brisk pacing, propelling Charlie through her adventure. She throws enough romance into the mix to satisfy but keeps the main focus on suspense. More great suspense from a prolific new writer with a vibrant imagination."—Kirkus Reviews



"Derting's chilling dystopia envisions an America ruled by monarchy, most of its cities razed, and its citizens straitjacketed in a caste system divided by language...[and is] right on when depicting the bonds of family, friendship, and first love."--Publishers Weekly




"Fast-paced and engrossing. A world of class languages is an intriguing vehicle for demonstrating the issues of insider vs. outsider that can be so typical of the teenage years. While today's teens probably will not find resistance fighters and royal blood hidden in their worlds, they will find, as Charlie does, that people are not really as they seem."--VOYA



"Though not strictly dystopian (this book is more of a unique blend of dystopian, fantasy, and fairy tale), The Pledge certainly has all the earmarks that fans of The Hunger Games will enjoy. Derting has created truly one of the most original stories I've seen hit the YA shelves in a long time -- crafting her own genre out of existing themes, and weaving together a story that will keep you up late into the night reading."--The Examiner