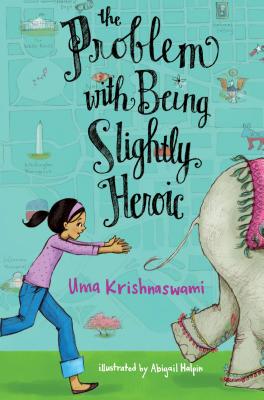 The Problem with Being Slightly Heroic (Hardcover)
Atheneum Books for Young Readers, 9781442423282, 274pp.
Publication Date: August 13, 2013
* Individual store prices may vary.
Description
Dini is back from India--with Bollywood star Dolly in tow But life in the States isn't all rose petal milk shakes... Dini and Maddie, very best friends, are back in the same country at the same time Better still, Dolly Singh, the starriest star in all of Bollywood, is in America too. Dini's only just returned from India, and already life is shaping up to be as delicious as a rose petal milk shake. Perfect. Then why can't she untie the knot in her stomach? Because so much can go wrong when a big star like Dolly is in town. All Dini has to do is make sure Dolly has everything she needs, from a rose petal milk shake to her lost passport to...a parade? And an elephant? Uh-oh... It's time to think. What Would Dolly Do? If Dini can't figure it out, Dolly might take matters into her own hands--and that will surely lead to the biggest mess of all Uma Krishnaswami has concocted a delicious sequel to her multiple star-reviewed The Grand Plan to Fix Everything, which Kirkus Reviews called "a delightful romp.