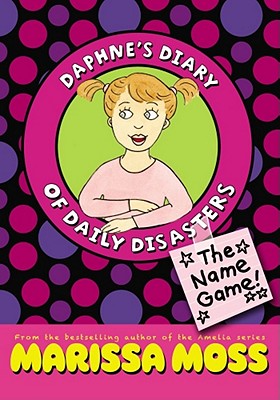 The Name Game! (Daphne's Diary of Daily Disasters) (Hardcover)
Simon & Schuster/Paula Wiseman Books, 9781442426764, 80pp.
Publication Date: July 12, 2011
* Individual store prices may vary.
Description
In The Name Game , Daphne has never (ever) loved her name, but it is her name and she can't do much to change it. So when the first day of fourth grade comes, Daphne is flustered when the new teacher can't seem to remember her name. It's not Duffy or Daffy or Doffy. It's Daphne And if you ask her, there's a lot in a name.... In The Vampire Dare , Daphne wonders why everyone is so crazy for vampires. She decides it's kinda cool to be bitten by a vampire because you'll live forever--and if you can't die, you can't get old and wrinkly. So when the teachers announce a costume day (even though Halloween is long past), Daphne wants to be the best vampire ever But what is cool and what is nerdy in Vampire Land? Daphne's about to find out.
Praise For The Name Game! (Daphne's Diary of Daily Disasters)…
The Name Game!
Marissa Moss. S&S/Wiseman, $9.99, (80p) ISBN 978-1-4424-2676-4; $5.99 trade paper ISBN 978-1-4424-1738-0
First there was Amelia, then Max, and now Daphne, the worry-prone narrator of Moss's third diary-style series, Daphne's Diary of Daily Disasters. Readers will quickly realize that Daphne isn't exactly one to look on the bright side: though she has an evident sense of humor, her affinity for melodrama emerges as she chronicles her first day of fourth grade in hand-lettered text and doodles on pink lined paper. Disaster strikes early when her teacher mispronounces her name while taking attendance. " 'Daffy?' DAFFY!! As in ditzy, dumb, dingbat--all kinds of 'D' words that DON'T describe me," Daphne writes indignantly. That evening, her father suggests that she come up with a nickname for her teacher, Mrs. Underwood. Using the obvious twist on that name causes Daphne some trouble the following day, but her teacher defuses the situation, and Daphne comes to realize that mistakes happen. Moss understands the way that minor slights can feel like apocalyptic, life-altering traumas to children (and, yes, adults), and Daphne's frustrations, candor, and slightly mean brand of humor feel entirely genuine. Also available: The Vampire Dare! Ages 7–10. (June)
--Publishers Weekly, May 2, 2011



THE NAME GAME!
Author: Moss, Marissa
Illustrator: Moss, Marissa
Review Date: May 1, 2011
Publisher:Paula Wiseman/Simon & Schuster
Pages: 80
Price ( Paperback ): $5.99
Publication Date: July 12, 2011
ISBN ( Paperback ): 978-1-4424-1738-0
Category: Fiction
Series: Daphne's Diary of Daily Disasters
Volume: 1
On her first day of fourth grade, Daphne starts a diary that quickly becomes one of doodles and disasters and sets up a new series by the creator of Amelia.
In this series opener, her teacher, Ms. Underwood, mispronounces her name when calling the roll, so that classmates—except best friend Kaylee—are calling her Daffy. The very slim plot involves Daphne's discovery that the name game has happened to others. Her solution is to nickname her teacher, but she realizes that she's not the first to call her teacher Mrs. Underwear. The first-person narrative includes familiar middle-grade scenes—a trip to the orthodontist and the boredom of watching her younger brothers' soccer practice—sketches of people and things, even rebuses. In a companion story that publishes simultaneously, The Vampire Dare, her vampire costume turns out to be a disaster, prompting classmates to claim she has cooties. Again Daphne turns the tide by transferring the onus to a cootie-catching old doll. This light reading is made even lighter by the fact that the last quarter of each volume is taken up with extra material: lists and sketches of name disasters in the first and costume disasters in the second.
Hand-lettered on lined paper like Moss' hugely popular Amelia's Notebook (1995) and its sequels, this series is likely to appeal to the same middle-grade audience... (Graphic fiction. 8-11)
- KIRKUS REVIEWS May 2011
or
Not Currently Available for Direct Purchase