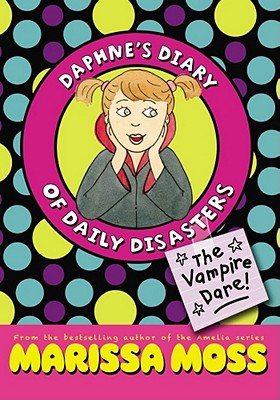 The Vampire Dare! (Daphne's Diary of Daily Disasters) (Hardcover)
Simon & Schuster/Paula Wiseman Books, 9781442426771, 80pp.
Publication Date: July 12, 2011
* Individual store prices may vary.
Description
In The Name Game , Daphne has never (ever) loved her name, but it is her name and she can't do much to change it. So when the first day of fourth grade comes, Daphne is flustered when the new teacher can't seem to remember her name. It's not Duffy or Daffy or Doffy. It's Daphne And if you ask her, there's a lot in a name.... In The Vampire Dare , Daphne wonders why everyone is so crazy for vampires. She decides it's kinda cool to be bitten by a vampire because you'll live forever--and if you can't die, you can't get old and wrinkly. So when the teachers announce a costume day (even though Halloween is long past), Daphne wants to be the best vampire ever But what is cool and what is nerdy in Vampire Land? Daphne's about to find out.
Praise For The Vampire Dare! (Daphne's Diary of Daily Disasters)…
The Vampire Dare!
Moss, Marissa (Author) , Moss, Marissa (Illustrator)
Jun 2011. 80 p. Simon & Schuster, paperback, $5.99. (9781442417373).
Like Moss' books about Amelia, this series featuring a fourth-grader named Daphne takes the form of
journals filled with doodles and private musings. Daphne is one of those dramatic girls for whom life is
filled with lots of "TOTAL DISASTERS." In this story, she decides to be a vampire for her school's
Costume Day and then has to figure out how to distinguish her vampire costume from everyone else's. The
plot plays out quickly and predictably, but the doodles are amusing, such as the various animals pictured as vampires and the cavalcade of disastrous costumes. As a character, Daphne isn't developed much in this book, but that is somewhat ameliorated by the simultaneously published The Name Game!, in which she's mistakenly called "Daffy" by Ms. Underwood on the first day of school (compelling Daphne to get even
by calling her teacher "Ms Underwear"). Light, quick, and sure to be popular.
--BOOKLIST, May 1, 2011
or
Not Currently Available for Direct Purchase