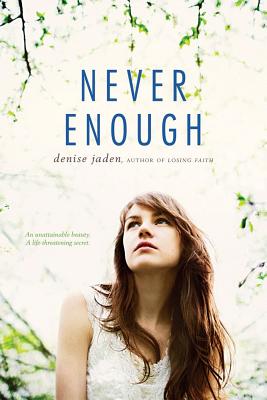 Never Enough (Paperback)
Simon Pulse, 9781442429079, 372pp.
Publication Date: July 10, 2012
* Individual store prices may vary.
Description
From the author of Losing Faith, a novel about two sisters and the eating disorder that threatens to destroy their family. Loann's always wanted to be popular and pretty like her sister, Claire. So when Claire's ex-boyfriend starts flirting with her, Loann is willing to do whatever it takes to feel special...even if that means betraying her sister.
But as Loann slips inside Claire's world, she discovers that everything is not as it seems. Claire's quest for perfection is all-consuming, and comes at a dangerous price. And Loann is frightened she could lose the sister she's always idolized.
As Claire increasingly withdraws from friends and family, Loann struggles to understand her and make amends. Can she heal their relationship--and her sister--before it's too late?
About the Author
Denise Jaden has been a professional Polynesian dancer, a fitness competitor, a mushroom farmer, a church secretary, and a homeschooling mom. Losing Faith was her first novel. She lives just outside Vancouver, Canada, with her husband and son. Visit her online at DeniseJaden.com or on Twitter at @DeniseJaden.
Praise For Never Enough…
"Denise Jaden positively nails the love-hate relationship between two polar opposite sisters who share a single quest: the desire to be perfect, regardless of the cost. A compelling, often gut-wrenching coming-of-age novel, Never Enough will haunt you long after the last page."
—From Jeannie Garsee, author of Before, After and Somebody In Between
"Denise Jaden's Never Enough is honest, gut wrenching, and oh so beautiful.  It's a book you can't wait to share."
—Eileen Cook, author of Unraveling Isobel and The Education of Hailey Kendrick
"A poignant, important book, Never Enough tackles self-esteem and body image issues while always remaining true to its three-dimensional characters. Denise Jaden has created a cliché-free zone filled with hurt, heart, and personal strength. Jaden's tender sympathy for her characters and dedication to honest storytelling shine through every page."
—C.K. Kelly Martin, author of I Know It's Over
"Raw and unforgettable, Never Enough is an authentic portrait of a teen girl faced with an impossible situation. Loann's relationship with her sister is beautifully drawn and heartbreaking."
—Tara Kelly, author of Amplified
or
Not Currently Available for Direct Purchase