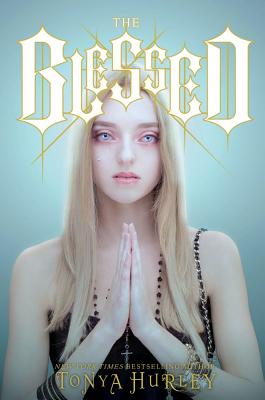 The Blessed (Blessed - Trilogy) (Hardcover)
Simon & Schuster Books for Young Readers, 9781442429512, 405pp.
Publication Date: September 25, 2012
* Individual store prices may vary.
Description
From the author of the New York Times bestselling ghostgirl series, the start to a captivating and haunting teen trilogy about three girls who become entangled with an enigmatic boy--a boy who believes he is a saint. What if martyrs and saints lived among us? And what if you were told you were one of them?
Meet Agnes, Cecilia, and Lucy. Three lost girls, each searching for something. But what they find is Beyond Belief.
Praise For The Blessed (Blessed - Trilogy)…
"A good story that uses faith as a powerful narrative device. Combine that with first-rate characters, scheming powers that be, and a harrowing plot you have a book that has bestseller written all over it, in big gothic letters."



"Brooklyn is the perfect setting for this dark, gritty thriller...Readers can rest assured that while these young women may be saints, they are definitely not angels."



"Our new favorite dark, sexy rock-n-roll thriller."



"Intriguing premise, fiery dialogue, and digs about celebrity-obsessed culture that moves at the speed of Twitter…"



"Hurley has given me the story I've wanted for years—one with strong females accepting their lot and living to their full potential.
I will be sitting on the edge of my seat waiting for the second installment. For readers looking for a new story and for new characters to love and cheer for, then Agnes, CeCe, and Lucy are your next favorites."



"...Hurley brings her deadpan wit and blackest humor to the first tale in this trilogy about spirituality, sacrifice and supernatural romance."



"...A masterpiece. I wholeheartedly recommend The Blessed to you if you are interested in good writing, expert story telling, quirk and circumstance, or rock and roll.



"The Blessed is raw and gritty. It's keep you on the edge of your seat, trying to remember that you actually need to breathe."



"The Blessed is creepy-cool."



"I loved the unexpected twists in the plot and suspense. I felt really invested in the characters and I felt like it's one of those books you could read over and over and never tire of. Once I started reading it, I couldn't put it down!"

-Kara Hayward, star of Moonrise Kingdom
Book Videos