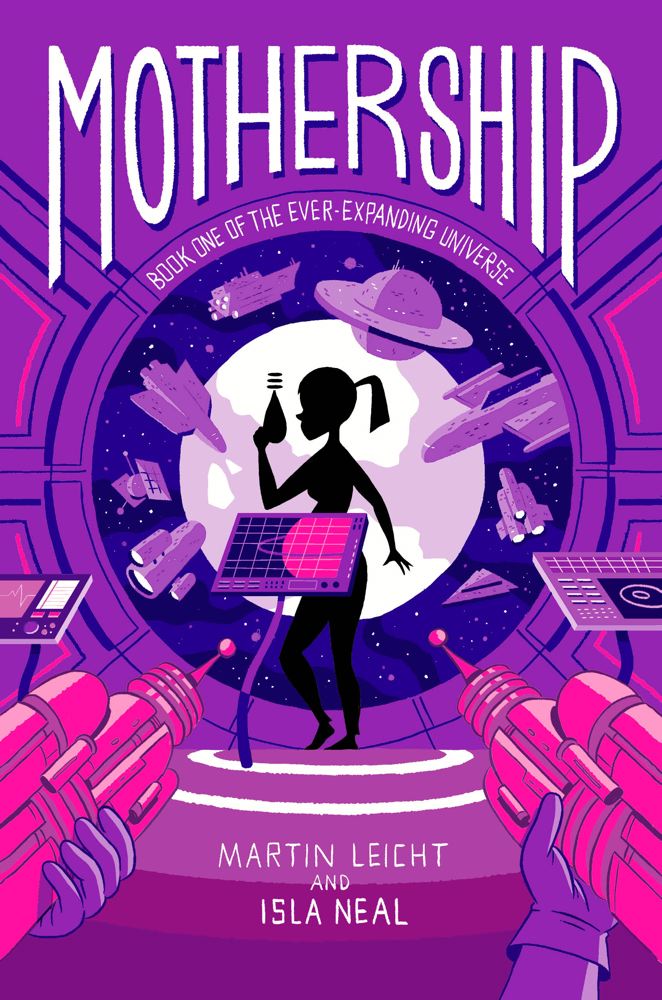 Mothership (Ever-Expanding Universe #1) (Hardcover)
Simon & Schuster Books for Young Readers, 9781442429604, 308pp.
Publication Date: July 10, 2012
* Individual store prices may vary.
or
Not Currently Available for Direct Purchase
Description
Teen pregnancy is never easy--especially not when extraterrestrials are involved. The first in a new trilogy. Elvie Nara was doing just fine in the year 2074. She had a great best friend, a dad she adored, and bright future working on the Ares Project on Mars. But then she had to get involved with sweet, gorgeous, dumb-as-a-brick Cole--and now she's pregnant.
Getting shipped off to the Hanover School for Expecting Teen Mothers was not how Elvie imagined spending her junior year, but she can go with the flow. That is, until a team of hot commandos hijacks the ship--and one of them turns out to be Cole. She hasn't seen him since she told him she's pregnant, and now he's bursting into her new home to tell her that her teachers are aliens and want to use her unborn baby to repopulate their species? Nice try, buddy. You could have just called.
So fine, finding a way off this ship is priority number one, but first Elvie has to figure out how Cole ended up as a commando, work together with her arch-nemesis, and figure out if she even wants to be a mother--assuming they get back to Earth in one piece.
About the Author
Martin Leicht decided at the age of three that he wanted to spend his life spinning stories, and he went on to receive his MA from the Goldberg Department of Dramatic Writing at NYU. He lives in New York City, though his heart will always be in Philadelphia. Isla Neal grew up in a small mountain town in Southern California and earned her MFA in Creative Writing for Children and Teens at the New School in in New York City, where she currently lives and works.
Praise For Mothership (Ever-Expanding Universe #1)…
"Juno meets aliens, sort of, in this wacky debut novel. Sixteen-year-old Elvie Nara's wisecracking voice is the perfect vehicle for her description of encounters with threatening aliens. An extremely clever premise that is skillfully carried off by the authors. Lots of humor, snarky teen comments, and earthy language abound. This reviewer cannot wait to see the next installment of Elvie's alien encounters. Teens who like irreverent humor, as well as fans of science fiction, are going to enjoy spending time with Elvie and her friends."
--VOYA
"This science-fiction–comic romp set in a space-based school for pregnant teens hits the funny bone and adds in an alien conflict for good measure. Elvie narrates the adventure, wisecracking the whole time. Leicht and Neal keep the focus mostly on wacky comedy, but it's a creditable adventure as well. Fans of science fiction and zany comedy should both be satisfied. Pure fun."
--Kirkus
"The fast-paced action, laugh-out-loud moments, and memorable characters [are a] a whole lot of fun."
--Publishers Weekly
"This action-packed first volume in the Ever-Expanding Universe series drips with sci-fi kitsch, including ray-gun-toting aliens and 1980s John Hughes nostalgia. There's something refreshing about these witty, cursing, sarcastic teen mothers in space, led by a sharp, knowledgeable, and vulnerable young heroine."
--Booklist
"Authors Martin Leicht and Isla Neal balance Elvie's significant decisions about the future of herself and her baby with plenty of action, humor and interesting characters. This futuristic romp will delight readers and leave them anxiously awaiting the next book in what promises to be a fun, thoughtful trilogy."
--BookPage



"Elvie is such a strong female lead. She's has a personality and isn't a wimp, unlike some other female leads in big books. She really stood up for herself when she needed to, and I really like that. Overall, Mothership was a very interesting book to read, unlike any book I've ever read before. It was really funny with sad parts too- and I learned a new word or two!"
Book Videos
Advertisement