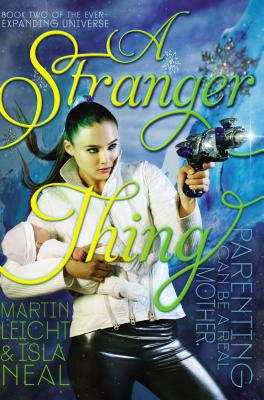 A Stranger Thing (The Ever-Expanding Universe #2)
Hardcover

* Individual store prices may vary.
Other Editions of This Title:
Paperback (12/31/2050)
Description
In this witty, adventurous sequel to Mothership, Elvie Nara is back on earth—but her life (including her new baby) is still pretty out there! "Irreverent humor makes this work of science fiction a comic treat" (VOYA).

Pregnancy was pretty rough for sixteen-year-old Elvie Nara, what with the morning sickness, constant food cravings, and the alien race war she found herself in the middle of. But if she thought giving birth to an extraterrestrial's baby would be the hard part, she was sorely mistaken.

After Elvie's baby is not what was expected, the Almiri completely freak out. Suddenly Elvie's supposed allies have shipped her—along with her father, her best friend, Ducky, and her maybe-boyfriend, boneheaded Almiri commando Cole Archer—off to a remote "retention facility" (aka alien jail) in Antarctica. Talk about cold. But things really get complicated when a new group of hybrid aliens arrive with information that sends Elvie's world spinning. Before long, Elvie is trekking across the bottom of the Earth with a band of friends and frenemies to uncover the secrets of her own origin. Will Elvie ever be able to convince the Almiri that a conspiracy to conquer the planet is a greater threat than a sixteen-year-old girl and a newborn who won't stop crying?
Praise For A Stranger Thing (The Ever-Expanding Universe #2)…
This first sequel to the sci-fi comedy Mothership (2012) continues its wry banter as a human girl—or is she?—fights to keep her half-alien baby safe from both the good aliens and the bad ones.

After giving birth to her half-alien daughter, Elvie finds herself imprisoned on Earth instead of in a spaceship. Elvie's baby's daddy, the staggeringly handsome but equally stupid Cole, certainly is an alien Almiri—but Almiri can't have daughters, can they? Whatever. The new family has wound up in Antarctica with other undesirables, at an underground facility run by fearless leader Oates. The plot thickens when rivals arrive, sending the group racing on dogsleds across the frozen continent in search of Elvie's crashed spaceship. Although attacked by killer whales, Elvie reaches the ship, where she finds that she did not manage to kill the evil Dr. Marsden in the first book. Leicht and Neal keep the main focus of the series on comedy but weave in enough suspense to keep the pages turning. It really is funny, thanks to Elvie's wry inner commentary, Cole's oh-so-sincere but painfully slow mental processes and the fizzy mix of characters. Even during the final action scenes they introduce a new character, a highly developed baby that Elvie calls "Bok Choy," as that is the child's dominant vocabulary.

Who knew science fiction about unwed motherhood could be so very hysterical? (Science fiction. 12 & up)
— Kirkus

Who knew science fiction about unwed motherhood could be so very hysterical?
— Kirkus

"Elvie's snarky voice and wise-cracking humor are the perfect complement to the inventive, fast-paced action scenes, which include an attack by human hybrids, more battles with the other aliens, a coordinated pursuit by killer whales, and so much more. The non-stop suspense and the cliffhanger ending will have readers on the edge of their seats and left impatiently waiting for the final installment of Elvie's adventures. The irreverent humor and earthy language make this work of science fiction a comic treat for older teens."
— VOYA
Simon & Schuster Books for Young Readers, 9781442429635, 288pp.
Publication Date: November 12, 2013
About the Author
Martin Leicht decided at the age of three that he wanted to spend his life spinning stories, and he went on to receive his MA from the Goldberg Department of Dramatic Writing at NYU. He lives in New York City, though his heart will always be in Philadelphia. Martin Leicht and Isla Neal are the authors of The Ever Expanding Universe trilogy, which includes Mothership, A Stranger Thing, and The World Forgot.

Isla Neal grew up in a small mountain town in Southern California and earned her MFA in Creative Writing for Children and Teens at the New School in in New York City, where she currently lives and works. Isla Neal and Martin Leicht are the authors of The Ever Expanding Universe trilogy, which includes Mothership, A Stranger Thing, and The World Forgot.
or
Not Currently Available for Direct Purchase