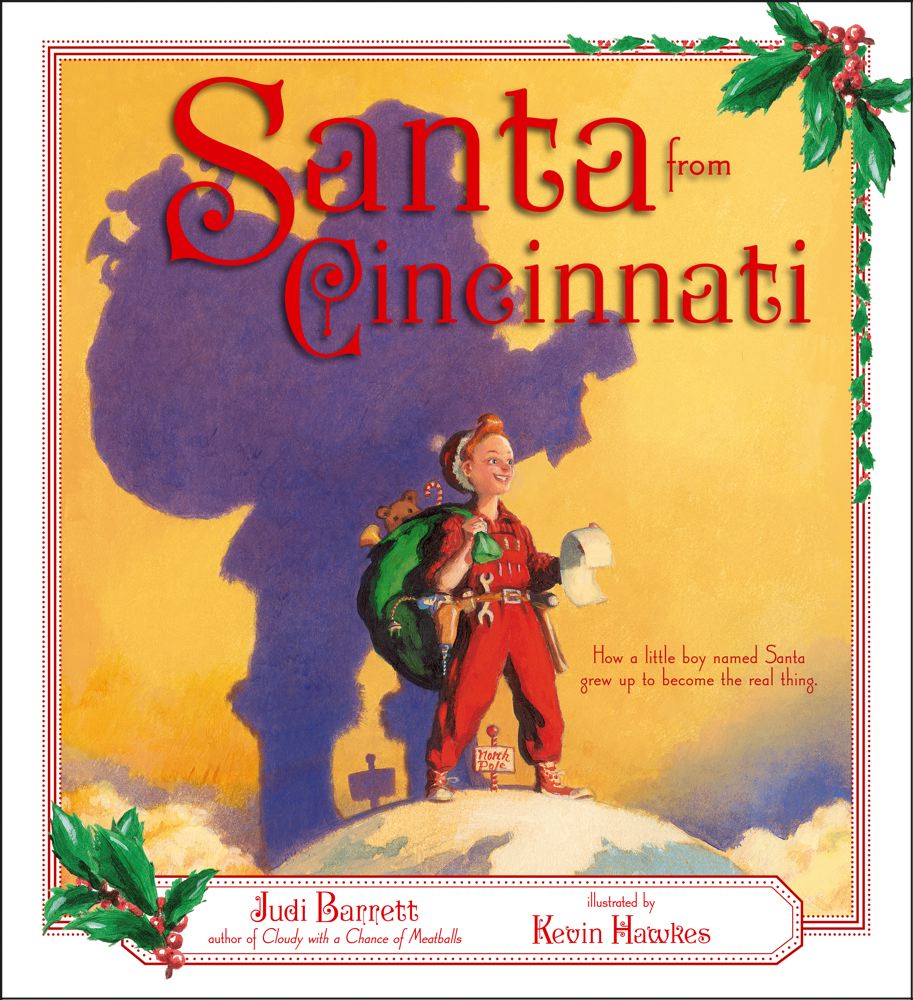 Santa from Cincinnati (Hardcover)
Atheneum Books for Young Readers, 9781442429932, 48pp.
Publication Date: October 2, 2012
* Individual store prices may vary.
or
Not Currently Available for Direct Purchase
Description
Everything you ever wanted to know about Santa, as told to the author of Cloudy with a Chance of Meatballs by the big guy himself. As you might imagine, the early life of Santa Claus was a liiiiiiiittle different from the childhood of your average kid. His first words were "ho ho ho " By five he was wearing a fake beard and mustache, and could rarely be found without his favorite stuffed reindeer. It was clear from a very young age that he was destined to be unique... Despite this, his parents went to great lengths to maintain normalcy in his life. They had him learn guitar (he was in a rock band ), and play baseball (he had quite an arm), and even do chores (okay--here he was like any other kid on earth--he hated chores). But there was no stopping Santa from being Santa, and one winter, he began to make his lists. He checked them twice, and delivered toys to children all over Cincinnati. Then, all over Ohio. Then--the world. Compiled from his baby book, family photos, and report cards, Santa from Cincinnati provides a full-spectrum view of the boy who grew to be the man who grew to be Santa.
Praise For Santa from Cincinnati…
* "It's Santa Claus the prequel in this witty exploration of Santa's younger years.
Santa narrates the story himself, starting with his birth on December 25 in Cincinnati to a normal couple who spotted his first name in a bowl of alphabet soup. His preferences and interests as a child are often indicated in Hawkes' illustrations; as a newborn he's wrapped in a red blanket with a tiny Santa cap, and as a little boy, he totes around a pillowcase full of stuffed reindeer toys. Santa and his father build toys together in his basement, and as a young man, Santa starts giving toys away every Christmas Eve. Each aspect of Santa's character is addressed, so that his current persona seems a logical result of his younger years. A large trim size with expansive double-page spreads lets the acrylic-and–colored-pencil illustrations shine, and lots of the laugh-out-loud humor is presented in the art. And of course, lots of children in Cincinnati will expect to find this under the tree on Christmas morning, a gift from their new hometown hero.
The droll, understated wit of the text and the delightfully comical, skillfully planned illustrations make this a story that will delight both children and adult readers."



* "Everyone knows Santa lives at the North Pole, but readers may be surprised to discover that Santa was born and raised in Cincinnati. In this clever picture book memoir, Santa looks back at his early diagnosis of a "jovial disposition," his penchants for tinkering and toy-building, his early efforts to provide the kids of Cincinnati with Christmas gifts, his college years, and beyond. Filling in the details of Santa's upbringing is an inventive premise, and readers will enjoy learning about Santa when he was just a redheaded boy with a cowlick and a fondness for beards. Hawkes's acrylics brim with humorous details, including scrapbook-style family photos of a young redheaded Santa hugging his toy reindeer, playing guitar, and tooling around in a convertible."



* "Clever and original, the story is made even more appealing by the dynamic acrylic paintings. Hawkes is a master of at rendering expressive faces and humorous details. A surefire hit for holiday storytimes."



* "Barrett hasn't left any stone unturned in imagining Santa's childhood days, and the firstperson narration gives the whole thing a tongue-in-cheek vibe. Obviously, Hawkes had so much to play with here, and he extends the fun at all times. There's the Polaroid snapshots of would-be Santa trying to pursue other interests and joining a rock band called Santa and His Reindeer and others depicting Mr. and Mrs. Claus' rejected potential homes (one is captioned "Lighthouse. Not righthouse"). Kids are going to want to add this one to their Christmas lists."
Advertisement