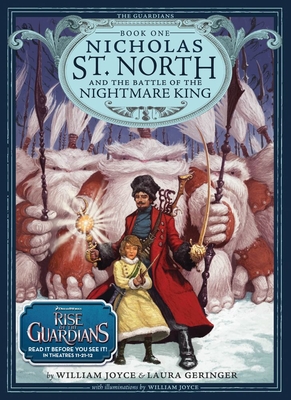 Nicholas St. North and the Battle of the Nightmare King (Hardcover)
Atheneum Books for Young Readers, 9781442430488, 228pp.
Publication Date: October 4, 2011
* Individual store prices may vary.
Description
Don't miss The Rise of the Guardians, soon to be a major motion picture in theaters November 2012. Before SANTA was SANTA, he was North, Nicholas St. North--a daredevil swordsman whose prowess with double scimitars was legendary. Like any swashbuckling young warrior, North seeks treasure and adventure, leading him to the fiercely guarded village of Santoff Claussen, said to be home to the greatest treasure in all the East, and to an even greater wizard, Ombric Shalazar. But when North arrives, legends of riches have given way to terrors of epic proportions North must decide whether to seek his fortune...or save the village. When our rebellious hero gets sucked into the chaos (literally), the fight becomes very personal. The Nightmare King and his evil Fearlings are ruling the night, owning the shadows, and sending waves of fear through all of Santoff Clausen. For North, this is a battle worth fighting...and, he's not alone. There are five other Guardians out there. He only has to find them in time.
About the Author
William Joyce has put his personal stamp on all types of children's media. His books include the New York Times bestseller The Man in the Moon, Nicholas St. North and the Battle of the Nightmare King, E. Aster Bunnymund and the Warrior Eggs at the Earth's Core!, and Santa Calls. He's won three Emmy awards for his Rolie Polie Olie animated series, developed character concepts for Toy Story and A Bug's Life, and made films including Robots and Meet the Robinsons. He's currently executive producer of the DreamWorks Animation release of Rise of the Guardians (Fall 2012) inspired by his new series. He is also producing The Leaf Men, based on his book The Leaf Men. And his star continues to rise--he's been nominated for an Academy Award for his innovative short film The Fantastic Flying Books of Mr. Morris Lessmore. He lives in Shreveport, LA, and is the founder of Moonbot Studios.