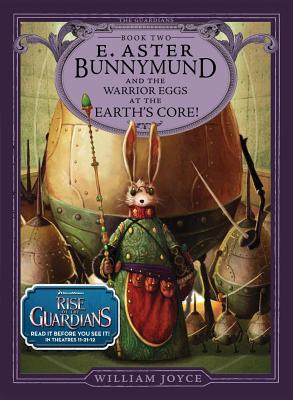 E. Aster Bunnymund and the Warrior Eggs at the Earth's Core! (Hardcover)
Atheneum Books for Young Readers, 9781442430501, 272pp.
Publication Date: February 21, 2012
* Individual store prices may vary.
Description
Don't miss The Rise of the Guardians, soon to be a major motion picture in theaters November 2012. Forget the bunny trail. E. Aster Bunnymund is on a warpath. In this second chapter book in William Joyce's The Guardians series, sometimes you have to crack a few eggs. Pitch, the Nightmare King, and his Fearlings had been soundly driven back by Nicholas St. North and company in the first Guardians' adventure. But now Pitch has disappeared completely--and out of sight does NOT make for out of mind. It seems certain that he's plotting a particularly nefarious revenge, and the Guardians suspect he might have gone underground. But how can they find him there? Enter E. Aster Bunnymund, the only emissary of the fabled brotherhood of the Pookas--the league of philosophical warrior rabbits of imposing intellect and size. Highly skilled in martial arts (many of which he invented himself), Bunnymund is brilliant, logical, and a tunnel-digger extraordinaire. If the Guardians need paths near the Earth's core, he's their Pooka. He's also armed with magnificent weapons of an oval-sort, and might just be able to help in the quest for the second piece of the Moonclipper. This second book in The Guardians series is about much more than fixing a few rotten eggs--it brings the Guardians one step closer to defeating Pitch.
About the Author
William Joyce has put his personal stamp on all types of children's media. His books include the New York Times bestseller The Man in the Moon, Nicholas St. North and the Battle of the Nightmare King, E. Aster Bunnymund and the Warrior Eggs at the Earth's Core!, and Santa Calls. He's won three Emmy awards for his Rolie Polie Olie animated series, developed character concepts for Toy Story and A Bug's Life, and made films including Robots and Meet the Robinsons. He's currently executive producer of the DreamWorks Animation release of Rise of the Guardians (Fall 2012) inspired by his new series. He is also producing The Leaf Men, based on his book The Leaf Men. And his star continues to rise--he's been nominated for an Academy Award for his innovative short film The Fantastic Flying Books of Mr. Morris Lessmore. He lives in Shreveport, LA, and is the founder of Moonbot Studios.
Praise For E. Aster Bunnymund and the Warrior Eggs at the Earth's Core!…
"Clever and packed with quirky, imaginative creations, lovingly illustrated by Joyce."--Booklist

"Children will read and reread the story to enjoy all the nuances of this plot-driven fantasy with strong visual imagery. Joyce's fans are sure to welcome his newest offering."

SLJ, June 2012