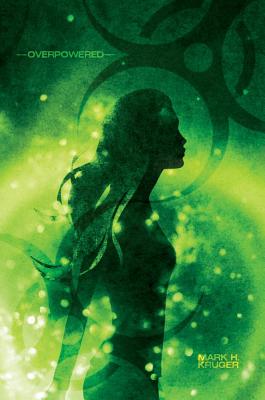 Overpowered
Hardcover

* Individual store prices may vary.
Other Editions of This Title:
Hardcover (5/5/2015)
Paperback (8/26/2014)
Description
The world's safest town might actually be a deadly kind of dangerous. And Nica Ashley is about to learn the hard way.

Nica Ashley is accustomed to traveling the globe with her journalist mother, so when she gets sent to live in a small town with the father she barely knows, she's in for a bit of a culture shock. Barrington prides itself on being a sleepy, family community with the lowest crime rates in the state of Colorado. There's even a private security force run by Barrington Technology (BarTech) and a nightly curfew for all residents.

On Nica's first day at school, she meets Jackson Winters and finds out he went from school superstar to living ghost after his girlfriend disappeared a few months ago. When Nica follows him out after curfew one night, they both witness a mysterious green flash—and the next morning the power has gone out and all the birds are dead.

But secrets are well and alive, and as Nica and some of her friends discover they now have abilities best described as "super," they also realize that Barrington might not be so safe. And that BarTech is looking for them.
Praise For Overpowered…
When Nica Ashley's mother travels to Antarctica for work, Nica is sent to live with her estranged father in the small town of Barrington, Colo., a far cry from the lively overseas locations she's used to, like Bangkok. Barrington is a Stepford community, with a nightly curfew, private security everywhere, and disconcertingly friendly residents. Nica's travels have helped her hone her observation skills, and she soon discovers the town's bizarre secret: nearby Barrington Tech is conducting strange experiments, which somehow imbue Nica and several other teens with superpowers. Forming an unlikely alliance with a peppy cheerleader named Maya, geeky Oliver, and rebellious love interest Jackson, Nica sets out to get to the heart of a mystery that started before she was born, while aware that Bar Tech is ruthlessly hunting those with powers. Though Nica's voice is at times stiff, screenwriter Kruger brings big-screen sensibilities to his debut novel. Comic book tropes, conspiracy theories, intrigue, and romance all come together, fleshed out with memorable characters. Ages 12–up. (Aug.)
— Publishers Weekly
Simon & Schuster Books for Young Readers, 9781442431287, 432pp.
Publication Date: August 27, 2013
About the Author
Mark H. Kruger is a screen and TV writer specializing in edge-of-your-seat thrillers and supernatural suspense. He has contributed to many television series and movies, but is best known for having written and produced for The 4400, Necessary Roughness, and the upcoming Damien, and for working with filmmakers Clive Barker and Wes Craven. Mark lives in Los Angeles and is the author of Overpowered and Overtaken.
or
Not Currently Available for Direct Purchase