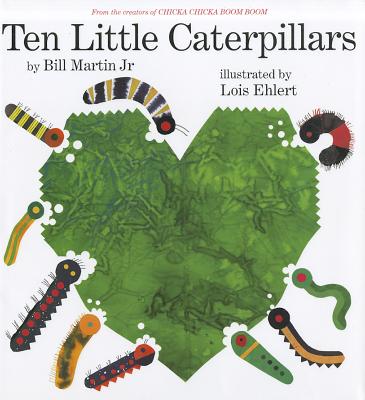 Ten Little Caterpillars (Hardcover)
Beach Lane Books, 9781442433854, 40pp.
Publication Date: August 30, 2011
* Individual store prices may vary.
Description
Ten little caterpillars are out and about in our big, wide world--come join them! You never know what you might find. . . . A butterfly, perhaps?

Readers of all ages have celebrated the work of Bill Martin Jr and Lois Ehlert ever since their first collaboration on Chicka Chicka Boom Boom more than twenty-five years ago. Now these two picture-book geniuses are together again in this dynamic and visually stunning counting-and-natural history picture book that's just perfect for reading aloud--and comes complete with a glossary filled with intriguing information about all of the caterpillar stars!
About the Author
Bill Martin, Jr. (1916–2004) has been called "America's favorite children's author." He wrote more than 300 books for children, including the classic texts Brown Bear, Brown Bear, What Do You See?, illustrated by Eric Carle; and Chicka Chicka Boom Boom, illustrated by Lois Ehlert.

Lois Ehlert has created numerous inventive, celebrated, and bestselling picture books, including Chicka Chicka Boom Boom, Holey Moley, The Scraps Book, Mice, Ten Little Caterpillars, RRRalph, Lots of Spots, Boo to You!, Leaf Man, Waiting for Wings, Planting a Rainbow, Growing Vegetable Soup, and Color Zoo, which received a Caldecott Honor. She lives in Milwaukee, Wisconsin.
Praise For Ten Little Caterpillars…
* "Martin's caterpillar counting rhyme has been given new life with gorgeous and bold watercolor collages from his Chicka Chicka Boom Boom collaborator, Ehlert. Readers can't be blamed for seeing this as a companion to Eric Carle's classic caterpillar tale...a graphically sumptuous book."
--Publishers Weekly, starred review

"From the accomplished creators of the classic Chicka Chicka Boom Boom (1989) comes this captivating, rhyming offering for the lap-sit crowd. Here, Ehlert lends her signature watercolor-collage artwork to the late Martin's text, which was originally published in 1967. On each spread, a different caterpillar moves through a brilliantly hued garden scene filled with flora and fauna, which are identified in small print. Many images, such as monarchs and roses, will be familiar to kids, while others, such as cabbage looper moths and gaillardias, will likely expand their knowledge...a final spread, featuring a countdown of each caterpillar and the butterfly it becomes, along with a few facts, creates a pleasing end to this beautiful title, which will be a natural hit with young children."

--Booklist, July 1, 2011

"Move over very hungry caterpillar—10 little caterpillars have arrived.

Martin's posthumous release rests in illustrator Ehlert's capable hands, resulting in a picture book that delivers on his reputation as a master of engaging, rhythmic, rhyming text as it presents some of Ehlert's best work to date. Arresting jacket art introduces 10 little caterpillars munching on a verdant, heart-shaped leaf against a white background. Open, white backgrounds of interior spreads allow the collages' vibrant colors to stand out in clean, visually dynamic spreads that invite readers to pore over the flora, other creatures and the caterpillars themselves who populate the pages. Each caterpillar from the jacket gets its own spread, with one climbing a cabbage head, another carried off to school in a jar and another falling into the sea. The 10th caterpillar, however, becomes a butterfly in a satisfying, if predictable, culmination of the verse. But wait—there's more! Concluding pages identify each caterpillar in sequence, provide readers with information about what they eat and reveal the kinds of moths and butterflies that result from their metamorphoses.
Equal parts counting book, nature book and ideal read-aloud fodder, this is a beauty of an offering from a familiar team."
--Kirkus Reviews, July 15, 2011, *STAR

"In this attractive counting book with a scientific flair, 10 little caterpillars creep and crawl through gardens, vegetable patches, and apple orchards.... Ehlert's watercolor collages, presented in the style of botanical illustrations complete with identifying labels, eloquently re-create the natural habitat of each creature.... An imaginative introduction to ordinal numbers and the process of metamorphosis."

--School Library Journal, August 2011

"In her most stunning artwork of recent memory, Ehlert's bold and bright illustrations in watercolor collage grace the book's large square pages and make the reader feel like he or she might even be able to step into the scene."

--Young Children, January 2012