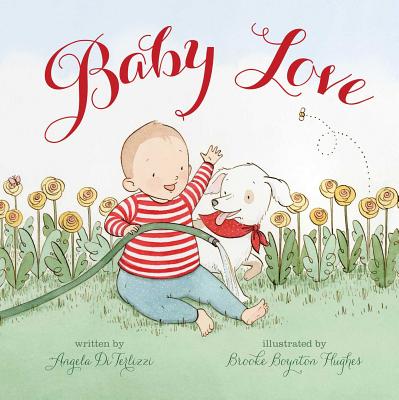 Baby Love (Hardcover)
Beach Lane Books, 9781442433922, 32pp.
Publication Date: April 14, 2015
Other Editions of This Title:
Board book (12/4/2018)
* Individual store prices may vary.
Description
This cozy and cuddly picture book celebrates all the most wonderful things about babies and is perfect for reading aloud to little ones.

Rosy cheeks.
Button nose.
Little fingers.
Tiny toes.
Sweet kiss.
Warm hug.
Yes, it must be baby love.

Anyone who has ever delighted in a baby's bright smile or darling toes will instantly connect to this adorable picture book with simple text and adorable illustrations. With just the right balance of sweetness and humor, this is a soothing ode to all the wonderful bits and pieces that make up a cuddly, snuggly baby.
About the Author
Angela DiTerlizzi is a mom, wife, and author who loves writing books for children. Her picture books include Some Pets, Some Bugs, Baby Love, and Just Add Glitter. She and her husband, bestselling author/illustrator Tony DiTerlizzi, reside with their daughter in Amherst, Massachusetts.

Brooke Boynton Hughes is the illustrator of Baby Love by Angela DiTerlizzi and Trudy Krisher's Bark Park. She lives in Fort Collins, Colorado. Visit her at Brooke.Boynton.Hughes.com.
Praise For Baby Love…
A beloved baby is the center of the universe for adoring parents.Cute toes, ears, eyes and even chubby thighs warrant hugs and kisses galore. Every action, from playing in the mud to taking baby steps to bathtime, is viewed as precious. Even the dog seems to be part of the fan club. DiTerlizzi's little one is unnamed and could be of either gender in Hughes' illustrations, though the family is Caucasian. Verses composed of four two-word lines in abcb rhyme catalog the baby's perfect features, followed by a chorus repeated after each verse. The final line provides extra emphasis, stating the enduring love this baby will always receive. "Yes, it must be baby love" changes to "You'll always be our baby love." Each line stands alone on the page, sometimes against a plain white background and sometimes incorporated within the illustrations, which are rendered in pen and ink with watercolor. Hughes enhances the spare text with lots of detailed depictions of the baby's activities and the interactions with parents and pet, all in the softest of color palettes. It is a completely idealized version of family life, but it all works because it manages to avoid, albeit narrowly, being too sentimental. Adults will want to read this again and again with baby cuddled close. A joyful, warm and lovely bedtime story.
— Kirkus Reviews

PreS–In ardent, rollicking tribute to the sweet charm of babies, a mama and papa laud the simple, yet special attributes of their own. "Rosy cheeks. Button nose. Little fingers. Tiny toes" is the start of what becomes a heartfelt love song to little ones. The refrain "Sweet kiss. Warm hug. Yes, it must be baby love" is repeated three times later in between other general baby attributes applicable to just about any infant, such as "Precious smile. Chubby thighs. Perfect ears. Sleepy eyes." The wide-spread, glossy illustrations depict a happy family of three enjoying the common day-to-day activities and characteristics of babyhood. No specific gender is implied (red-striped shirt and blue pants), suggesting that either is equally lovable. Equally endearing is the fact that both Mama and Papa care for baby at various times throughout the day until the very last page when both grown-ups nestle into each other's arms on the couch, fast asleep after an eventful day with their little one. VERDICT A wonderful choice for baby storytime programs.–Etta Anton, Yeshiva of Central Queens, NY
— School Library Journal

Oh, baby: with your "Rosy cheeks./ Button nose./ Little fingers./ Tiny toes," is it any wonder that everyone in the family (including the dog) wants in on a "Sweet kiss" and a "Warm hug"? DiTerlizzi (Some Bugs) and newcomer Hughes drop in on one family where baby besottedness is raging in the nicest way, following the adored one (whose gender is kept neutral) and its parents through a day of muddy gardening, playtime, and bedtime....whether she's showing the family basking in the bubbles and smiles of bath time or surveying the landscape of a very lived-in living room, [Hughes'] crisp, fluid line and soft washes of color convey comfort and coziness, while DiTerlizzi's pared-down rhymes move along with a meditative, bedtime-ready cadence. Baby makes three—or four, counting the pooch—but there's no question in these pages who's Numero Uno.
— Publishers Weekly