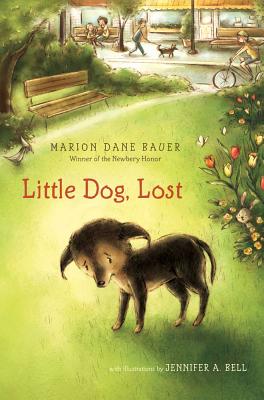 Little Dog, Lost (Hardcover)
Atheneum Books for Young Readers, 9781442434233, 197pp.
Publication Date: May 1, 2012
* Individual store prices may vary.
Description
From Newbery Honoree Marion Dane Bauer comes the tale of a boy who needs a dog, and a dog who needs a boy--a match made in heaven, if only the two can meet. Mark is a boy who needs a dog. But he can't get his mom on board with his plan.
Buddy is a dog who needs a boy. Buddy has an owner already, but not one who understands the kind of love and care--the "something more"--a dog needs.
Mr. LaRue is a neighbor who needs a community. He's alone all the time in his huge old house--and everyone needs more than that.
Over the course of a summer thunderstorm and one chaotic town council meeting, these three characters cross paths and come together in a timeless tale ripe with emotions and told in verse that resolves with love, understanding, and a sense of belonging--plus a place to play a game of fetch.
About the Author
Marion Dane Bauer is the author of many books for young readers, including the Newbery Honor book On My Honor and the New York Times bestseller My Mother Is Mine. Her other titles include A Mama for Owen, If You Were Born a Kitten, Grandmother's Song, and Thank You for Me! She has recently retired from the faculty of the Vermont College of Fine Arts MFA program in Writing for Children and Young Adults, where she was the first Faculty Chair. She lives in Eden Prairie, Minnesota, and can be reached at MarionDaneBauer.com.Jennifer A. Bell graduated with a degree in Fine Arts from the Columbus College of Art and Design and worked for several years as a product designer before establishing herself as an illustrator. She lives with her husband and son in Minneapolis, Minnesota.
Praise For Little Dog, Lost…
"Here is a tale that warms the heart from top to bottom and back again. This is storytelling in all its glory."
-Kathi Appelt, author of the Newbery Honor Book The Underneath

* "Wholly satisfying.... A perfect selection for pet lovers new to chapter books and anyone who just enjoys a cheerful dog story."

* "The rapid, immediate free verse will grab readers with first the longing and loneliness and then, on contrast, the boy and dog in bliss. Great for sharing with pet lovers."

"Marion Dane Bauer delicately showcases yearning in so many hearts, human and animal. Buddy, a female dog so named by her first owner because she was his buddy, loses one home and moves through another before emerging as a much-loved Ruby at the end. Telling the story in short poems, which highlight central characters, allows Bauer to make the story accessible to many different readers. The lines can dwell on Buddy's cute ears or the "eyes as blue as a Caribbean sea" of a lonely older man, or the wonderful dog-dominating skills of a cat named Fido. A great read-aloud."

"Newbery Honor–author Bauer (On My Honor) crafts distinct voices for each character and develops a strong sense of place in the close-knit town of Erthly. . . . Any child who has ever longed for a pet or tried to convince a parent to give in to a dear wish will identify with Mark."

"Written in poetry form, this title is a wonderful story for dog lovers and those who like a little mystery—the reader does not find out until the end of the book how each character's story relates others. This is perfect for a read-aloud or to read alone."



American Kennel Club Responsible Dog Ownership Month


American Kennel Club; http://www.akc.org/


Little Dog, Lost (Atheneum, 2012) by Newbery Honor winner Marion Dane Bauer is the heartwarming story of a boy who needs a dog, and a dog who needs a boy—a match made in heaven if only the two can meet! This touching novel in verse will captivate readers. A guide for the novel including discussion questions, simile and persuasive letter writing activities, and more is available free (http://www.mariondanebauer.com/bkpages/bk_littledog.html). Grades 3-7.

SLM, September 2012
or
Not Currently Available for Direct Purchase