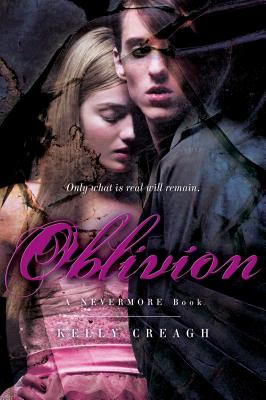 Oblivion
A Nevermore Book
Paperback

* Individual store prices may vary.
Other Editions of This Title:
Hardcover (7/28/2015)
Description
This "romantic, hard-fought" (Kirkus Reviews) conclusion to the Nevermore trilogy takes one last trip to the dream world of Edgar Allan Poe to reveal the intertwined fates of Isobel and Varen.

The boundaries which divide Life from Death are at best shadowy and vague. Who shall say where the one ends, and where the other begins? —Edgar Allan Poe

The fine line between life and death blurred long ago for Isobel Lanley. After a deadly confrontation with Varen in the dreamworld, she's terrified to return to that desolate and dangerous place. But when her nightmares resume, bleeding into reality, she is left with no choice. Varen's darkness is catching up to her. To everything. Threatening to devour it all.

Isobel fears for her world. For her sanity and Varen's—especially after a fresh and devastating loss. To make matters worse, the ghostly demon Lilith wants Varen for her own, and she will do anything to keep him in her grasp—anything.

Can Isobel ever find her happy ending? Worlds collide and fates are sealed in this breathtaking finale to the Nevermore trilogy.
Praise For Oblivion: A Nevermore Book…
"Creagh's prose is...lush...the story structure is well-supported by the placement of action and story-driving tension—especially in some surprise betrayals and twists.... Throughout, the real-life consequences of actions—especially for loved ones oblivious of the supernatural happenings—ground the story and add extra stakes. The denouement gives the ending extra weight. A romantic, hard-fought conclusion that should please fans."
— Kirkus Reviews, May 2015

"The final book of this paranormal trilogy finds Isobel traveling back into the dream world, hopefully for the last time, to save her beloved Varen.... The "Poe-etic" aspect of this series is seamlessly featured in Creagh's final installment, incorporating Edgar Allan Poe's life, poems, and troubles into Isobel and Varen's story. Readers are on the edge of their seat throughout the battles with Lilith and the Nocs (the series'villains). The secondary characters, such as Gwen and the protagonist's family members, contribute to the emotional impact of the dream world plight for the pair. VERDICT: This title doesn't stand alone, but fans of the "Nevermore" series or Poe will root for Isobel and Varen to escape their demons once and for all."
— Morgan O'Reilly, Riverdale Country School, NY

"Teens who have stuck with Creagh's complex, darkly romantic...Nevermore trilogy...will not be disappointed by this finale.... As with the previous books, Creagh's strength lies in her ability to sustain these rich, vivid dream sequences while orchestrating a shifting series of plot surprises...for fans of Maggie Stiefvater's Raven Boys series and Meg Wolitzer's Belzhar (2014)."
— Booklist, June 2015
Atheneum Books for Young Readers, 9781442436282, 448pp.
Publication Date: July 26, 2016
About the Author
Kelly Creagh is a 2008 graduate of Spalding University's MFA in Creative Writing program. When not writing, haunting bookstore coffee shops, or obsessively studying Poe, Kelly's passions include the ancient art of bellydance. She lives with her squirrely, attitude-infused dogs—Annabel, Jack, and Holly—in the heart of Old Louisville, Kentucky's largest and spookiest Victorian neighborhood. Kelly is the author of the Nevermore trilogy. Visit her at KellyCreagh.com.