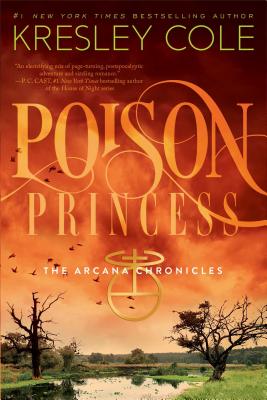 Poison Princess (The Arcana Chronicles)
Hardcover

* Individual store prices may vary.
Other Editions of This Title:
Digital Audiobook (10/1/2012)
Paperback (7/9/2013)
CD-Audio (10/2/2012)
Paperback (8/19/2014)
Description
#1 New York Times bestselling author Kresley Cole introduces The Arcana Chronicles, post-apocalyptic tales filled with riveting action, the dark mysticism of Tarot cards, and breathtaking romance.

She could save the world—or destroy it.
Sixteen year old Evangeline "Evie" Greene leads a charmed life, until she begins experiencing horrifying hallucinations. When an apocalyptic event decimates her Louisiana hometown, Evie realizes her hallucinations were actually visions of the future—and they're still happening. Fighting for her life and desperate for answers, she must turn to her wrong-side-of-the-bayou classmate: Jack Deveaux.
But she can't do either alone.
With his mile-long rap sheet, wicked grin, and bad attitude, Jack is like no boy Evie has ever known. Even though he once scorned her and everything she represented, he agrees to protect Evie on her quest. She knows she can't totally depend on Jack. If he ever cast that wicked grin her way, could she possibly resist him?
Who can Evie trust?
As Jack and Evie race to find the source of her visions, they meet others who have gotten the same call. An ancient prophesy is being played out, and Evie is not the only one with special powers. A group of twenty-two teens has been chosen to reenact the ultimate battle between good and evil. But it's not always clear who is on which side….
Praise For Poison Princess (The Arcana Chronicles)…
"An electrifying mix of page-turning, post-apocalyptic adventure and sizzling romance. The Arcana Chronicles will blow you away!"
— P.C. Cast

"The prose crackles with energy and interest, the content is on target in terms of current demand, and this could be the next Twilight."
— Booklist

"My brain is near exploding with how crazy good this story was… An exceptionally well written plot that will have you turning pages and sticking up a 'do not disturb' sign. You won't want to be interrupted. Especially when Jackson has his smexi Cajun mojo in full swing."
— novelsontherun.blogspot.com

"Holy Mother of YA Goodness…did Kresley Cole write a book! I'm still getting the chills thinking about this 'Poison Princess!'… Jack Deveaux, [is] a swoon-worthy character if ever there was one."
— parajunkee.com

"Kresley Cole knows how to capture an audience because I was gone from page one."
— mynotsovacantshelf.blogspot.com

"Cole knows how to deliver romance, and in POISON PRINCESS, she shows that younger characters can fall just as hard—and they take their readers with them… POISON PRINCESS is a brilliant debut that will snare readers of all ages with its vivid post-apocalyptic world, engrossing romance, and novel magic based on Tarot cards. The next book in The Arcana Chronicles just shot to the top of my wishlist."
— allthingsuf.com

"…this may very well be the best and most original book that I have ever read."
— mortalitybitesreviews.blogspot.com

"I love the sensual creativity that Kresley Cole delivers in her writing. Evie and Jack's electrifying connection is just to die for! Oh! and did I mention that Jack is the ultimate post-apocalyptic badass hero?"
— dazzlingreads.blogspot.com

"One of the most original YA debuts of the year that you just can't forget, "Poison Princess" is just one big book full of awesome."
— birthofanewwitch.wordpress.com

"Disturbing, dark, dangerous, terrifying, heartbreaking, and AMAZING!"
— hopelovehappyendings.blogspot.com

"I don't care how old you are or what genre you typically read. Everything you could ask for and more is all here for the taking!"
— ismellsheep.com

"Let me tell you right now, this book is so unique! Twenty two teens who all have special powers based on their characteristics of their Tarot card, so they can play their part in an ancient prophesy between good vs evil. Come on, tell me how unique that is? Honestly, I've not read anything like this book before and I'm still in awe with how brilliant it really is."
— bookpassionforlife.blogspot.com

"I loved EVERY SECOND of this book! Poison Princess is utterly mesmerizing and fiercely captivating!! Without a doubt the BEST post apocalyptic book I've read ALL YEAR!"
— bookish-brunette.com

"Jack Deveaux, you Cajun bad-boy, I love you so hard! Utterly seductive and alluring, Poison Princess is undoubtedly one of the sexiest, hottest YA Dystopian books I've read in a long time!"
— teenbookguru.com

"Jack and Evie made my heart pang. Poison Princess is full of myths and magic. Unrelenting action. Drama. Romance. It has, quite simply, ensnared my mind and my heart."
— romanticbookaffairs.blogspot.com

"Jackson is so unbelievably rugged. Translation: HOT!!!!! Another translation: Heart-breaker… His body language is smoldering with heat, his words are dripping with sex, and his actions are obsessed with protecting Evie. He's perfect—in every way!"
— ya-sisterhood.blogspot.com

"[Evie and Jack's] chemistry was electrifying and to die for. Creatively dark and highly seductive, Poison Princess is a tale of a twisted world that will have you appropriately terrified, full of angst and completely captivated long after you have turned the last page."
— loveaffairwithabookreviews.blogspot.ca

"This sexy and dangerous thrill ride will leave you breathless."
— glass-of-wine.blogspot.com

"Jack. Jack. Jack. I could repeat his name over and over and over. Wow, is that man full of sexiness. . Kresley Cole can sure create those boys that will make readers swoon! Can she please create one for me?"
— ibbookblogging.net

"If I had to put this review into just one sentence, this would be it: Best Book I Have Read In 2012."
— clairelouisereads.blogspot.com

"And guys, Jackson is HOT. He's got a sexy Cajun accent, he's tall, dark and he speaks French. Evie was awesome right from the start, and much like Jackson, she went through a hell of a lot in just this first book. I want to reread this again and again. Starting right this minute!"
— booksofamber.blogspot.com
Simon & Schuster Books for Young Readers, 9781442436640, 384pp.
Publication Date: October 2, 2012
About the Author
Kresley Cole is the #1 New York Times bestselling author of the Immortals After Dark paranormal series and the young adult Arcana Chronicles. Her books have been translated into over twenty foreign languages, garnered three RITA awards, and consistently appear on the bestseller lists in the US and abroad. Before becoming a writer, Cole was a world-ranked athlete, coach, and graduate student. She has traveled over much of the world and draws from those experiences to create her memorable characters and settings. She lives in Florida with her family and "far too many animals," and spends any free time traveling. You can learn more about her and her work at KresleyCole.com or Facebook.com/KresleyCole. Sign up for Kresley's email newsletter to receive the latest book release updates, as well as info about contests and giveaways (KresleyCole.com/Newsletter).