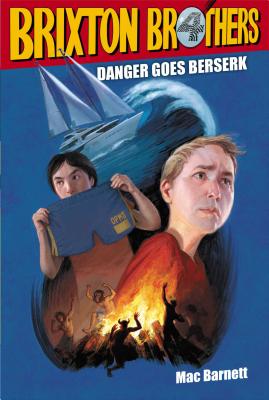 Danger Goes Berserk (Brixton Brothers #4) (Paperback)
Simon & Schuster Books for Young Readers, 9781442439788, 256pp.
Publication Date: October 1, 2013
* Individual store prices may vary.
Description
A twelve-year-old sleuth goes undercover—and underwater—to tackle three cases in this hilarious Brixton Brothers mystery.

It's a routine case…

…or at least as routine as a cases get when you're a twelve-year-old private detective who's been sleuthing for just a few months: Steve Brixton must don a neon wetsuit and work undercover to retrieve a stolen surfboard.

But when the assignment goes all wrong, Steve finds himself caught inside mysteries involving wild surfers, pirate smugglers, thick-necked goons, and a sixth-grader who can't find his gym shorts.
About the Author
Mac Barnett is the author of the Brixton Brother series and several picture books, including Guess Again! and Chloe and the Lion (both illustrated by Adam Rex), and the New York Times bestseller Extra Yarn. He's on the board of directors of 826LA, a nonprofit writing center, and founded the Echo Park Time Travel Mart, a convenience store for time travelers. Mac lives in Oakland, California.

Matt Myers has illustrated more than a dozen books, including The Most Terrible of All, A Dog Named Doug, the New York Times bestseller Battle Bunny, and The Infamous Ratsos, a Theodor Seuss Geisel honor book. He lives in Charlotte, North Carolina. You can see more illustrations and fine art at MyersPaints.com.
Praise For Danger Goes Berserk (Brixton Brothers #4)…
"Like the three earlier volumes of the Brixton Brothers series, this chapter book takes the adventure and plotting
of an old-school (think Hardy Boys) series mystery and overlays it with deadpan, offbeat humor. The
occasional full-page drawings help define the characters, settings, and tone of the story. Wildly improbable
and reliably entertaining."

In this hilarious takeoff on "Hardy Boys"-style mysteries, a young wannabee sleuth gets more than he bargained for when he finds himself pitched into a wild round of stunning revelations - about books, espionage, and librarians. Rex's deadpan illustrations perfectly complement one of the funniest and most promising series openers in years.

"Action! Adventure! Humor! Mac Barnett has written a book kids will devour."

"Full of excitement and danger, of narrow escapes and unexpected twists, while also being one of the funniest books of its kind ever written."

"This is the craziest, funniest book you will ever read all year. What are you waiting for?"

"Barnett's coolly hysterical sendup of the Hardy Boys…and Rex's tongue-in-cheek black-and-white illustrations…will entertain all who have outgrown the originals. Pray for sequels."

"One of the funniest and most promising series openers in years."

"A smart, amusing mystery, this promising first novel is a fine start for the Brixton Brother series."

"Barnett's second Brixton Brothers mystery continues the whimsically sardonic adventures of everyone's soon-to-be-favorite clueless-yet-earnest boy detective–wannabe. Shot through with moments of goofiness and dotted with Rex's black-and-white illustrations, this is sure to please existing fans and win new ones."

"Barnett has written a fun, adventure-filled book. This is a great choice for slow or reluctant readers."

"Barnett's sly and often silly Hardy Boy parody chugs along with plenty of laughs and enough honest-to-gosh mystery to please any lover of boy detective fiction. Rex's black-and-white pencils (which also parody the Hardy tales) are still a fine match for the goofiness. Mention of the next adventure at mystery's close will make Brixton fans smile."

"An amusing addition to the Brixton Brothers series."