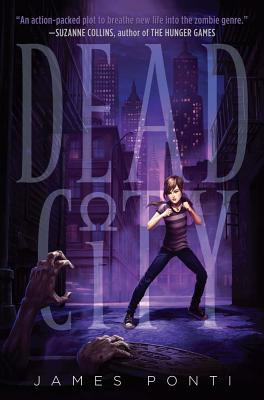 Dead City (Hardcover)
Aladdin Paperbacks, 9781442441293, 277pp.
Publication Date: October 2, 2012
Description
The Hunger Games author Suzanne Collins says this paranormal action-adventure "breathes new life into the zombie genre" and has "a terrific twist of an ending." Most kids have enough to deal with between school, homework, extracurricular activities, and friends, but Molly Bigelow has something else on her list: hunting zombies. By day, Molly attends MIST--the Metropolitan Institute of Science and Technology--but outside the classroom she's busy dealing with the undead. Because not only do zombies exist, they're everywhere, and it's her job to help police them and keep the peace. Sure, she'd like to be a regular kid, but given that her mother was the most revered (or feared, depending on your perspective) zombie hunter in the history of New York City, "regular" just isn't possible. Molly's got some legendary footsteps to follow--and some undeadly consequences if she fails.
Praise For Dead City…
In Dead City, James Ponti cleverly weaves Manhattan history into an action-packed plot to breathe new life into the zombie genre. Brainy, funny, and socially baffled Molly Bigelow makes for an irresistible narrator as she drives the story to a terrific twist of an ending. If I'd had the next installment, I'd have dived right in.—Suzanne Collins, author of THE HUNGER GAMES trilogy



"In Ponti's breezy and adventure-driven story, readers follow Molly and the Omegas as they connect the dots between the explosion, Little Women, the Dewey Decimal System and the Periodic Table of Elements. It works. Ponti incorporates New York City sights and gory zombie descriptions in a quick transit to an exciting finale with high-blown dramatics and a surprisingly tender moment.
A fast-paced read for those who like their zombies with just a little fright."
- Kirkus Reviews, September 2012
Advertisement