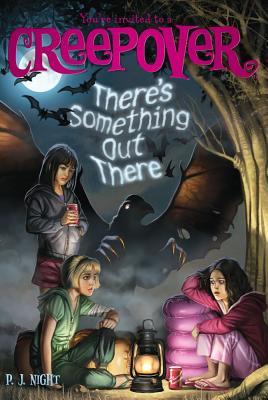 There's Something Out There (You're invited to a Creepover #5)
Paperback

* Individual store prices may vary.
Other Editions of This Title:
Library Binding (1/1/2013)
Hardcover (12/11/2018)
Prebound (12/27/2011)
Description
An overnight campout sets the stage for a monstrous scare!

Jenna Walker has always been fascinated by the legend of the Marked Monster, the scarred half-bird, half-beast creature that is said to roam the forests around her hometown. Is the Marked Monster real or is it just the stuff of myth? Jenna decides to find out once and for all with a campout at her house where she and her friends can search for the legendary beast. But as Jenna starts to learn more about the Marked Monster, she realizes that this legend might be more than just myth, and more sinister than she ever could have imagined. Will Jenna meet the Marked Monster face to face and will she be marked for life?
Simon Spotlight, 9781442441484, 160pp.
Publication Date: December 27, 2011
About the Author
A lifelong night owl, P.J. Night often works furiously into the wee hours of the morning, writing down spooky tales and dreaming up new stories of the supernatural and otherworldly. Although P.J.'s whereabouts are unknown at this time, we suspect the author lives in a drafty, old mansion where the floorboards creak when no one is there and the flickering candlelight creates shadows that creep along the walls. We truly wish we could tell you more, but we've been sworn to keep P.J.'s identity a secret…and it's a secret we will take to our graves!