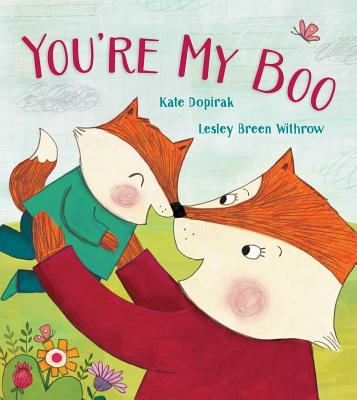 You're My Boo
Hardcover

* Individual store prices may vary.
Description
In a sweet rhyming ode to unconditional love, debut author Kate Dopirak celebrates the silly ups and downs of life with a little one.

Introducing an adorable fox family, where the older brother is sweet…and a bit of a stinker. But whether he gets along (or doesn't) with his baby sibling, whether he is helpful (or not) to his family, or whether he behaves (or doesn't) when it's time to settle down, his Mama is always right there to reassure him that, "No matter what you do, you will always be my boo."
Praise For You're My Boo…
A day in the life of a family is more than the sum of its adorable parts. "You're my peek-a-boo, my sneak-a-boo, / my laughing till-you-squeak-a-boo." So begins this mother fox's celebration of her quick, sneaky, funny, naughty little fox cub. All day long, the toddler plays, alternating between engaging its baby sibling and teasing it. And all day long, the mother cajoles, comforts, or corrects the child's behavior, using the "boo" diminutive throughout, until at day's end the child is comforted and tucked in to sleep. Adult readers with a low saccharine tolerance may shudder at the sweetness of the endeavor, but with its meticulous scansion and playful affection, it subtly morphs into a story that is both a silly name litany (always popular with young readers) and a quietly reassuring statement of continual mischief-proof parental love ("And no matter what you do… / you will always be my boo"). The book also draws a fairly neat line between the "boo" of "peek-a-boo" and the contemporary, affectionate slang term for "sweetheart." Withrow's accompanying pencil, collage, and digital art aptly illuminates the cub's day, excelling in vignettes that illustrate the protagonist's shenanigans even as the text delivers simple, one-word descriptions. In the end, it's the love between parent and child that carries the story. Boo-tiful. (Picture book. 3-5)
— Kirkus Reviews

Though the title might suggest a hip, slangy ode to parental affection, Dopirak's debut picture book takes a cuddlier approach as a mother fox describes her children in a series of rhyming terms of endearment: "You're my peek-a-boo, my sneak-a-boo,/ my laughing-till-you-squeak-a-boo./ Go! Stop! Walk! Run!/ You're my funny honey bun." Working in a loose, cartoony style, newcomer Withrow uses rough strokes of pencil, vibrant collage elements, and digital coloring to create a friendly patchwork backdrop for the small domestic dramas that unfold over a single day. While these foxes have a happy home, it isn't all smiles and giggles—there's squabbling between the two siblings, a broken toy, and a tiny slip and fall, all of which are resolved with a bit of parental TLC. Dopirak's rhymes...[are] unerring in their rhyme and meter and, along with Withrow's tender illustrations, create a comforting mood from start to finish. Up to age 8.
— Publishers Weekly

From morning to night, a mother fox loves her children, especially her oldest, her "Boo." She gives him affectionate nicknames throughout the day as the kit and his younger sister eat, play, and squabble. Whether he's nice or mean, happy or sad, Mom is always there to hug and snuggle her Boo. The rhyming text, printed in a large font and nicely laid out for reading aloud to children, bounces along merrily....The singsong text and spreads are interrupted by quartets of sequential actions punctuated with single-syllable words, "Yes! No! Nice! Mean!" These sequences show the siblings quarreling, after which their mother always reassures them that she loves them. Sometimes it seems as though the resolutions are glossed over. Thankfully, the illustrations, rendered in pencil and colored with hand-painted collage pieces and digital painting, provide more of a story arc, as well as family interactions for readers to explore and discuss. VERDICT An additional purchase for public libraries looking for more bedtime tales.
— School Library Journal
Beach Lane Books, 9781442441606, 40pp.
Publication Date: September 20, 2016
About the Author
Kate Dopirak (1975–2018) loved walking her puppy, watching her sons play basketball, and convincing her husband to share a cheese plate instead of wings. She also loved to write for kids. Kate was a teacher, a reading specialist, and the Assistant Regional Advisor for Western Pennsylvania SCBWI. Her books include You're My Boo; Twinkle, Twinkle, Little Car; and Hurry Up. Visit her at KateDopirak.com.

Lesley Breen Withrow has been drawing for as long as she can remember. After graduating from college, Lesley worked as a graphic designer and then a creative planner and product designer for a greeting card company. Once completing a certificate in children's book illustration from the Rhode Island School of Design, Lesley started her own illustration business. Lesley's work can be seen on a range of products from books, apps, cards, gift wrap, scrapbooks, puzzles, stickers, magazines, packaging, toys, and games. Lesley lives in Rhode Island with her husband, young daughter, and sweet little black cat named Desi.
or
Not Currently Available for Direct Purchase