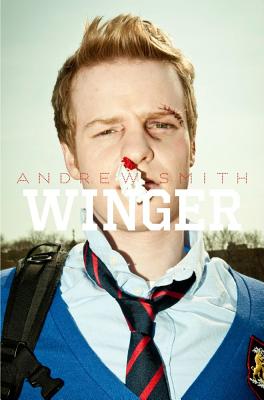 Winger
Hardcover

* Individual store prices may vary.
Other Editions of This Title:
Paperback (9/2/2014)
Description
A teen at boarding school grapples with life, love, and rugby in a heartbreakingly funny novel.

Ryan Dean West is a fourteen-year-old junior at a boarding school for rich kids. He's living in Opportunity Hall, the dorm for troublemakers, and rooming with the biggest bully on the rugby team. And he's madly in love with his best friend Annie, who thinks of him as a little boy.

With the help of his sense of humor, rugby buddies, and his penchant for doodling comics, Ryan Dean manages to survive life's complications and even find some happiness along the way. But when the unthinkable happens, he has to figure out how to hold on to what's important, even when it feels like everything has fallen apart.

Filled with hand-drawn infographics and illustrations and told in a pitch-perfect voice, this realistic depiction of a teen's experience strikes an exceptional balance of hilarious and heartbreaking.
Praise For Winger…
"Winger broke my heart, like any great book should. Andrew Smith is a brave and talented storyteller who blows me away every time. Readers will love Ryan Dean West. This book is powerful, sweet and heart-wrenching."
— A. S. King, Printz Honor-winning author of Please Excuse Vera Dietz

"Winger is one of the most honest and beautifully raw novels I've read in a long time. Ryan Dean is a true original."
— Matt de la Peña, author of Mexican WhiteBoy and We Were Here

* "[A] brutally honest coming-of-age novel...Like puberty itself, this tale is alternately hilarious and painful, awkward and enlightening...an excellent, challenging read."
— Publishers Weekly, starred review

* "Smart, wickedly funny...In a magnificently frenetic first-person narration that includes clever short comics, charts and diagrams...Smith deftly builds characters—readers will suddenly realize they've effortlessly fallen in love with them—and he laces meaning and poignantly real dialogue into uproariously funny scatological and hormonally charged humor, somehow creating a balance between the two that seems to intensify both extremes. Bawdily comic but ultimately devastating, this is unforgettable."
— Kirkus Reviews, starred review

* "This deceptively lightweight novel packs an unexpectedly ferocious punch."
— Booklist, starred review

"Amusing and touching in a "Looking for Alaska," meets Rabelais meets "Friday Night Lights" kind of way."
— A. J.Jacobs, New York Times Book Review

* "Smith's masterful narrative of the hormonal yet insightful teenage boy flows smoothly throughout the novel...an unforgettable and unflaggingly appealing voice...A classic coming-of-age story that combines humor and heartbreak in just the right amounts."
— Shelf Awareness, starred review

"Andrew Smith crafts something in Winger that will have you thinking about the things you choose to say and those you leave unsaid."
— TeenReads

"Sharp, funny, and perceptive about youthful male friendships. Readers who enjoy stylistically interesting stories about underdogs in boy world may therefore still find this witty and entertaining."
— BCCB

"A reader looking to pigeonhole Winger into a traditional genre category may be in for a surprise. It's a laugh-out-loud funny sports story set at a boarding school, but it's also a serious look at the many different forms of love—and a subtle meta-narrative about the process of telling a story...Reminiscent of Looking for Alaska, Winger packs a punch that will leave readers rethinking their assumptions about humor, friendship and the nature of storytelling—and about the broad range of emotions of which teenage boys are capable."
— BookPage

You're not going to find futuristic fantasies or superpowers in Andrew Smith's young adult novel Winger. Fourteen-year-old Ryan Dean West's life at a boarding school for the wealthy is by all accounts ordinary -- he has an unrequited crush on his female best friend, and he has to share a room with his rugby team's biggest bully -- but that's also Winger''s" appeal.
— CNN.com

"I am seriously moved beyond words after finishing this beautiful, hilarious, and heart-exploding book. Reading Winger is like running down a steep hill--you should probably slow down, but it feels too good to stop. Andrew Smith has written a wildly original, hilarious, and heartbreaking ode to teenage confusion and frustration. You'll devour it and then go back for more."
— John Corey Whaley, author of the Printz and Morris winning Where Things Come Back
Simon & Schuster Books for Young Readers, 9781442444928, 448pp.
Publication Date: May 14, 2013
About the Author
Andrew Smith is the author of several novels for young adults, including Winger, Stand-Off, 100 Sideways Miles, and the Michael L. Printz Honor Book Grasshopper Jungle. He lives in a remote area in the mountains of Southern California with his family, two horses, two dogs, and three cats. He doesn't watch television, and occupies himself by writing, bumping into things outdoors, and taking ten-mile runs on snowy trails. Visit him online at AuthorAndrewSmith.com.