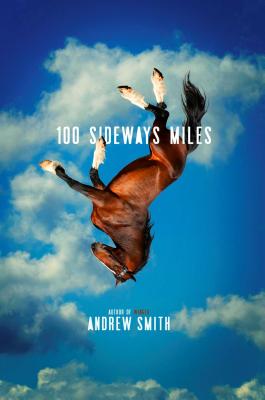 100 Sideways Miles (Hardcover)
Simon & Schuster Books for Young Readers, 9781442444959, 288pp.
Publication Date: September 2, 2014
Other Editions of This Title:
Digital Audiobook (6/22/2015)
Paperback (9/8/2015)
MP3 CD (6/23/2015)
Compact Disc (6/23/2015)
Prebound (9/8/2015)
* Individual store prices may vary.
Description
Destiny takes a detour in this heartbreakingly hilarious novel with five starred reviews, from the acclaimed author of Winger, which Kirkus Reviews called "smart" and "wickedly funny."

Finn Easton sees the world through miles instead of minutes. It's how he makes sense of the world, and how he tries to convince himself that he's a real boy and not just a character in his father's bestselling cult-classic book. Finn has two things going for him: his best friend, the possibly-insane-but-definitely-excellent Cade Hernandez, and Julia Bishop, the first girl he's ever loved.

Then Julia moves away, and Finn is heartbroken. Feeling restless and trapped in the book, Finn embarks on a road trip with Cade to visit their college of choice in Oklahoma. When an unexpected accident happens and the boys become unlikely heroes, they take an eye-opening detour away from everything they thought they had planned—and learn how to write their own destiny.

NYTBR Notable Children's Book of the Year
NPR Best Book of the Year
NYPL's Best Book of the Year for Teens
Chicago Public Library Best Teen Fiction of the Year
A Texas Tayshas Top Ten Selection
About the Author
Andrew Smith is the author of several novels for young adults, including Winger, Stand-Off, 100 Sideways Miles, and the Michael L. Printz Honor Book Grasshopper Jungle. He lives in a remote area in the mountains of Southern California with his family, two horses, two dogs, and three cats. He doesn't watch television, and occupies himself by writing, bumping into things outdoors, and taking ten-mile runs on snowy trails. Visit him online at AuthorAndrewSmith.com.
Praise For 100 Sideways Miles…
*"A wickedly witty and offbeat novel...a breathtaking read."
— Kirkus Reviews, starred review

"John Green fans will enjoy Smith's newest novel."
— VOYA

*"This unpredictable story of love and friendship is close to perfect."
— Booklist, starred review

*" Finn's musings about the universe's constant dispersal and recycling of atoms, along with his habit for measuring time in the distance the Earth is forever racing around the sun, provide a memorable perspective on human (in)significance."
— Publishers Weekly, Starred Review

"I'm not sure I've ever laughed with, cried with, and rooted harder for a character than Finn Easton. His voice is so strong, so real, that his triumphs and failures felt like they were my own. I seriously loved this book."
— Len Vlahos, author of The Scar Boys

Finn Easton has lived his life in the shadow of a book. As a child, Finn was severely injured and his mother killed in a freak accident: a dead horse landed on them when it fell off a truck that was traveling over a bridge. After the accident, his father took many of Finn's unique characteristics (his name, heterochromatic eyes, propensity to measure time in miles traveled by the Earth in orbit, struggle with epilepsy, and a particular scar along his back) and made them into a character in a Robert Heinlein–esque novel, The Lazarus Door. The novel has attained cult status around the world and made Finn's life a nightmare. The only person who treats him as though he is not the character in the book is his best friend, Cade Hernandez, the tobacco-chewing, sex-obsessed, teacher-baiting hero to their classmates, beloved for his pitching skills and his ability to get most people—especially girls—to do whatever he wants. Late in their junior year, Julia Bishop moves in and Finn falls in love. She is creative and funny. When she announces that she is moving back home to Chicago shortly after Finn's birthday, he is heartbroken, but decides to continue with his planned road trip with Cade to Dunston University in Oklahoma, a school they plan to attend unless Cade is drafted by the major leagues or is given an athletic scholarship to another university. The trip is the first time Finn has been out of California or away from home, and Cade helps him cut the cord by throwing away his cell while on the road in Arizona. While driving in a deluge in Oklahoma, they witness an accident and risk their own lives rescuing a little boy, a dog, and a grandfather from a raging river. This will appeal to teens who like novels that with a bit of an absurdist edge.–Suanne B. Roush, formerly at Osceola High School, Seminole, FL
— School Library Journal

*"This will appeal to teens who like novels that with a bit of an absurdist edge."
— School Library Journal, starred review

"Finn and Cade are a tag team for the ages. No one does male friendship (or vomit and accidental nudity) better than Andrew Smith."
— S.A. Bodeen, author of The Compound

"An unusual and memorable novel."
— Horn Book

"The current of genuine warmth that runs through it ensures multiple revisits and enthusiastic sharing."
— BCCB, starred review