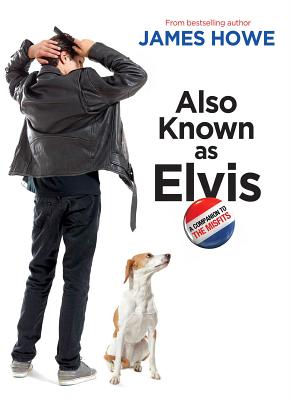 Also Known as Elvis (The Misfits)
Hardcover

* Individual store prices may vary.
Other Editions of This Title:
Paperback (4/14/2015)
Description
Skeezie Tookis navigates a pivotal summer of first crushes and tough choices in this conclusion to the bestselling and acclaimed quartet that began with The Misfits.

Skeezie Tookis, also known as Elvis, isn't looking forward to this summer in Paintbrush Falls. While his best friends Bobby, Joe, and Addie are off on exciting adventures, he's stuck at home, taking care of his sisters and working five days a week to help out his mom. True, he gets to hang out at the Candy Kitchen with the awesome HellomynameisSteffi, but he also has to contend with Kevin Hennessey's never-ending bullying. And then there's the confusing world of girls, especially hot-and-cold Becca, his maybe-crush. And the dog that he misses terribly. And the dad who left two years before, whom Skeezie is convinced is the cause of all his troubles. In the words of the King, Skeezie Tookis is All Shook Up.

Skeezie's got the leather jacket of a tough guy, but a heart of gold—and his story, the fourth and final chapter of the beloved Misfits series, is brimming with life's tough choices, love in all directions, and enough sweet potato fries to go around.
Praise For Also Known as Elvis (The Misfits)…
"Skeezie's story shares the series' strengths. . . a powerful affirmation of friendship, compassion and the right to be accepted for who we are."
— Kirkus Reviews

"Howe complements the strong first-person voice with tweets, texts, and dialogue transcripts as he tackles themes of bullying, family, and independence. Skeezie's story swells with the same earnest humor and after-school-special sweetness as the other Misfits books. Indeed, this is a fitting final installment in the series. Each of the books has a distinct voice, reflecting the individual protagonist's personality, yet they fit together perfectly, just like the friends themselves."
— Booklist, April 2014

"In this final book in the series, Skeezie Tookis looks back 12 years to the summer he was 13. . . . Howe skillfully blends humor and pathos, effectively conveying the protagonist's conflicted feelings, even through his wisecracks, and his characterization is robust and nuanced. Skeezie narrates the story to his soon-to-be-born son, and readers learn at the outset, as they did in the conclusion of The Misfits (S. & S., 2001), how things turned out for the Gang of Five, but knowing doesn't lessen the impact of this compelling story. A most fitting and satisfying conclusion."
— School Library Journal, May 2014

"This thoughtful conclusion to the Misfits series begins with Skeezie as an adult. . . . Once again, Howe shows uncanny understanding of adolescent concerns and vulnerabilities, painting a realistically complicated portrait of a boy's coming of age."
— Publishers Weekly
Atheneum Books for Young Readers, 9781442445109, 288pp.
Publication Date: April 15, 2014
About the Author
James Howe is the author of more than ninety books for young readers. Bunnicula, coauthored by his late wife Deborah and published in 1979, is considered a modern classic of children's literature. The author has written six highly popular sequels, along with the spinoff series Tales from the House of Bunnicula and Bunnicula and Friends. Among his other books are picture books such as Horace and Morris but Mostly Dolores and beginning reader series that include the Pinky and Rex and Houndsley and Catina books. He has also written for older readers. The Misfits, published in 2001, inspired the nationwide antibullying initiative No Name-Calling Week, as well as three sequels, Totally Joe, Addie on the Inside, and Also Known as Elvis. A common theme in James Howe's books from preschool through teens is the acceptance of difference and being true to oneself. Visit him online at JamesHowe.com.