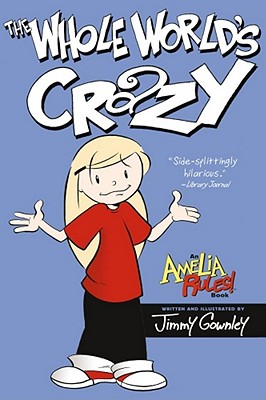 The Whole World's Crazy (Hardcover)
Atheneum Books for Young Readers, 9781442445383, 176pp.
Publication Date: October 4, 2011
Description
The first volume in the comics sensation Amelia Rules --now repackaged as a hardcover Meet Amelia Louise McBride. She's been forced to move out of Manhattan after her parents decided to get divorced, and is now living in a small town (who cares which one) with her mom and her aunt, Tanner. Not to mention the fact that she's dealing with being the new kid in school, many trips to the principal's office, first kisses, etc. But you know what? She's got her friends Reggie, Rhonda, and Pajamaman, and everything's going to be okay. Except, of course, when it isn't. This first volume in the hit series sees Amelia and her friends taking on bullies, barely surviving gym class, learning the truth about Santa, and the dubious merits of the elusive Sneeze Barf.
About the Author
Jimmy Gownley began writing and drawing comics at the age of fifteen. He cofounded Kids Love Comics, which works to promote comic books and graphic novels as a valuable tool for literacy and education. Jimmy lives in Harrisburg, Pennyslvania, with his family. Visit him and Amelia online at AmeliaRules.com.
Praise For The Whole World's Crazy…
"A Peanuts for the twenty-first century." -- Comics Buyer's Guide



"Side-splittingly hilarious." -- Library Journal



"Amelia is the most lovable smart-aleck since Peanuts' Lucy...sure to put you in a tickle-your-funnybone mood!" -- Megan McDonald, author of the Judy Moody series



"Amelia's family and friends will take up permanent residence in your heart." -- Bob Schooley and Mark McCorkle, creators of Kim Possible
Advertisement