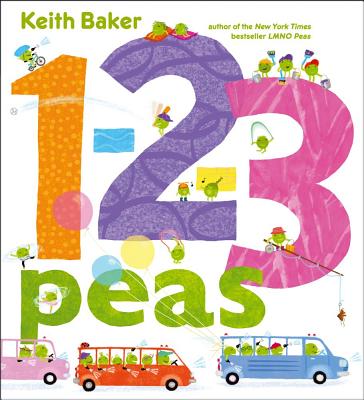 1-2-3 Peas (Hardcover)
Beach Lane Books, 9781442445512, 40pp.
Publication Date: July 24, 2012
Description
The peas are back in this counting-themed follow-up to the New York Times bestselling LMNO Peas. Meet the peas--the 1-2-3 Peas Come along as they count from one to one hundred in this pea-filled picture book that's packed with bright, bold numbers and playful number-themed scenes. These tiny green mathematicians will have young readers everywhere calling for more peas, please.
About the Author
Keith Baker has written and illustrated many acclaimed picture books for young children, including LMNO Peas, No Two Alike, Big Fat Hen, Who Is the Beast?, and Potato Joe. He lives in Seattle, and you can visit him at keithbakerbooks.com.
Praise For 1-2-3 Peas…
* "The bipedal green peas that starred in LMNO Peas return in a lively counting romp…. Baker's energizing graphics are as joyful and fresh as in the first book, anthropomorphizing the peas in spreads that burst with personality."


—Publishers Weekly, May 14, 2012, *STAR

* "After an alphabetical, rhyming tour de force (LMNO Peas, 2010), Baker's energetic pea pack is back—this time, to count by ones and 10s…. Whether they're counting scores of peas, enjoying the rhymes and puns or relishing the funny visual quirks, families are sure to devour Baker's latest winner. Totally ap-pea-ling!"


—Kirkus Reviews, May 30, 2012, *STAR

"This colorful counting book features the same cast of characters introduced in Baker's LMNO Peas (S & S, 2010). This time, the peas are out and about engaging in all sorts of imaginative activities that the "pea-wee" crowd might enjoy: planting, painting, dancing on stage, building, fishing, singing, etc. As youngsters browse the pages, they can count along from 1 to 20, then to 100 by tens…children will enjoy returning time and again to discover the visual surprises or humorous touches hidden in the book's pages."

—School Library Journal, July 2012

"Baker's follow-up to "LMNO Peas" features that book's clever and amiable concept, which can be summarized thus: peas are cute. They are cute when one of them holds a telescope, and they are cute when two of them go fishing or three of them paddle rowboats, one wearing a ponytail, another in a baseball cap. They are especially fetching when wearing tutus and spinning like whirling dervishes. Children will coo at them in hammocks. They will appreciate their attempts to put together a 50-piece puzzle. They will like everything about peas—as long as they don't have to eat them."

"A welcome companion to Baker's alphabet book, LMNO Peas (2010), this counting book features a large cast of the same odd but charming little characters: green peas with skinny arms and legs, occasional footwear or headgear, and abundant energy. The spacious format supports a series of well-composed double-page spreads in which huge numerals in vibrant colors and patterns stand out brilliantly against the white backgrounds used in most pictures. Meanwhile, the little peas scurry about, illustrating phrases in the rhymed couplets that unite the scenes…. Children will enjoy finding the right number of characters in each scene in this inviting introduction to counting."


—Booklist Online, August 8, 2012

"In this companion to L-M-N-O Peas, the wildly animated crew of peas takes a numerical jaunt from 1 to 100…. The crisply metric text makes this as much fun to read as it is to pore over, and it's a whole lot of fun to pore over…the numeral is treated as a physical element in the pea-rich vignettes for the little veggie participants to fish off of, drive around, or build on. The highly detailed activities of said peas are definitely worth a closer look (Peayoncé can be found crooning on the "Seventy peas singing" page).While little listeners will appreciate the story, they will especially enjoy the opportunity to take a closer look when storytime is through."


--BCCB, October 2012

"Counting never looked as fun as it does in 1-2-3 Peas.... The tiny, busy peas are a hoot, driving, flying, biking around giant numerals on each colorful spread."
Advertisement