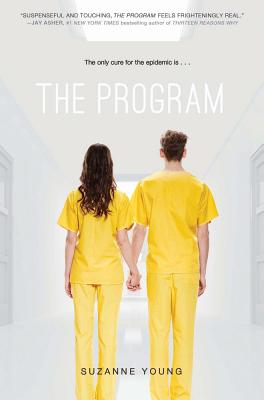 The Program (Hardcover)
Simon Pulse, 9781442445802, 405pp.
Publication Date: April 30, 2013
Description
In Sloane's world, true feelings are forbidden, teen suicide is an epidemic, and the only solution is The Program. Sloane knows better than to cry in front of anyone. With suicide now an international epidemic, one outburst could land her in The Program, the only proven course of treatment. Sloane's parents have already lost one child; Sloane knows they'll do anything to keep her alive. She also knows that everyone who's been through The Program returns as a blank slate. Because their depression is gone--but so are their memories. Under constant surveillance at home and at school, Sloane puts on a brave face and keeps her feelings buried as deep as she can. The only person Sloane can be herself with is James. He's promised to keep them both safe and out of treatment, and Sloane knows their love is strong enough to withstand anything. But despite the promises they made to each other, it's getting harder to hide the truth. They are both growing weaker. Depression is setting in. And The Program is coming for them.
Praise For The Program…
*STARRED REVIEW* "With this powerful psychological drama, Young contributes a unique, attention-worthy standout from the crowd of young adult dystopias.""For lovers of dystopian romance, this gripping tale is a tormented look at identity and a dark trip down Lost-Memory Lane.""The uncomfortable mix of the good intentions and horrific outcomes of The Program is chilling, and will likely haunt readers as a slightly-too-plausible path adults would choose to "save" their teens.""Young's book is unrelentingly emotional and dark . . . [and] confronts readers with questions about whether the past or the present defines a person, while make[ing] a strong case for the value of all memories, good and bad.""[A]n entertaining, and compelling read."*STARRED REVIEW* "Readers will devour this fast-paced story that combines an intriguing premise, a sexy romance, and a shifting landscape of truth. With big questions still unanswered and promising twists, this first volume in a new series will leave readers primed for more."
Advertisement