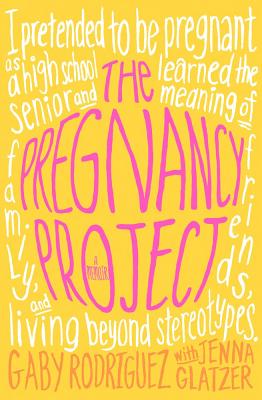 The Pregnancy Project (Hardcover)
Simon & Schuster Books for Young Readers, 9781442446229, 218pp.
Publication Date: January 17, 2012
Description
The true story of a high school senior whose faked pregnancy rocked her community and made international headlines. It started as a school project...but turned into so much more. Growing up, Gaby Rodriguez was often told she would end up a teen mom. After all, her mother and her older sisters had gotten pregnant as teenagers; from an outsider's perspective, it was practically a family tradition. Gaby had ambitions that didn't include teen motherhood. But she wondered: how would she be treated if she "lived down" to others' expectations? Would everyone ignore the years she put into being a good student and see her as just another pregnant teen statistic with no future? These questions sparked Gaby's school project: faking her own pregnancy as a high school senior to see how her family, friends, and community would react. What she learned changed her life forever, and made international headlines in the process. In The Pregnancy Project, Gaby details how she was able to fake her own pregnancy--hiding the truth from even her siblings and boyfriend's parents--and reveals all that she learned from the experience. But more than that, Gaby's story is about fighting stereotypes, and how one girl found the strength to come out from the shadow of low expectations to forge a bright future for herself.
About the Author
Gaby Rodriguez made national headlines in 2011 when, as a seventeen-year-old high school senior from Toppenish, Washington, she revealed she had faked a pregnancy for a class project. Her grades were in the top 5 percent of her graduating class, and she was a commencement speaker. She was also in the ASB Leadership group and president of the school's chapter of M.E.Ch.A (Movimiento Estudiantil de Chicanos de Aztlan: Chicano Student Movement of Aztlan). She was raised by her single mom, has seven brothers and sisters, and has been dating her boyfriend Jorge since 2008. She is currently attending college. Jenna Glatzer is the author or ghostwriter of nineteen books, including The Marilyn Monroe Treasures; My Stolen Son with Susan Markowitz;Bullyproof Your Child for Life with Joel Haber, Ph.D.; and the authorized biography Celine Dion: For Keeps. She has written hundreds of articles for publications such as Woman's World, Salon, AOL, and MSN, and is a frequent contributor to Writer's Digest. She lives in New York with her daughter. Visit her at JennaGlatzer.com.
Praise For The Pregnancy Project…
"…Gaby's story is vividly told with a strong voice and a great story arc that begins with her parents and ends with a call to other teens and adults to stop the cycle of teen pregnancy, motherhood and poverty. THE PREGNANCY PROJECT is not just a good read, but an important one as well." – BookReporter.com
Advertisement