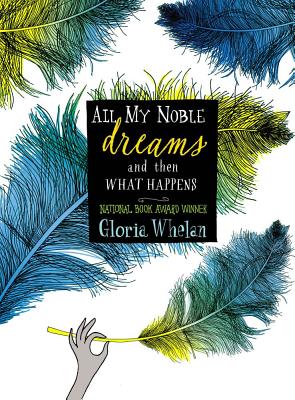 All My Noble Dreams and Then What Happens
Hardcover

* Individual store prices may vary.
Other Editions of This Title:
Paperback (4/1/2014)
Description
Rosalind is caught between two worlds as Gandhi's nonviolent revolution takes hold in this standalone companion to Small Acts of Amazing Courage.

Rosalind inhabits two worlds in 1920s India. There is the world of her heritage—English to the core, with a strict father who is a major in the British Indian Army, a muted mother, and a tutor to educate her within the walls of the luxurious estate her family occupies. And then there is the world of her homeland—or the land that feels like home, anyway. The world where followers of Gandhi surround her, and the streets are full of poverty and the whispers of independence.

The two worlds are colliding, and despite what Rosalind has been raised to think, she begins to resent the heavy hand of British rule. When her father's military position provides Rosalind the opportunity to meet the Prince of Wales, she has the chance to tell him about the injustice she witnesses in the streets of India. Rosalind desperately wants to do what is right, but will she have the courage to—and what will be the consequence?
Praise For All My Noble Dreams and Then What Happens…
In this sequel to Small Acts of Amazing Courage (2011), heroine Rosalind dances with the Prince of Wales during his 1921 visit to India and does her bit for Gandhi's independence movement.

Growing up in colonial India, Rosalind isn't "what a well-bred English girl should be," to the distress of her very British father. Two years before, Rosalind and her friend Max barely avoided arrest for publically supporting Gandhi's movement to free India. Now they sympathize with his nonviolent strikes disrupting the country. When Rosalind's father is invited to festivities surrounding the Prince of Wales' visit to Calcutta, Max coaxes her to deliver an important letter from Gandhi to the prince. Months later, in London, Rosalind's chance encounter with King George V also affects Gandhi's cause. Whether saving an Indian girl from an arranged marriage or teaching Indian boys, Rosalind's loyalties lie with her adopted country. Though at first approaching India's struggle from a "White Man's Burden" perspective, Rosalind learns not to apply English values to India and its cultures. Whelan conveys the atmosphere of a critical period in India's history from the sympathetic, first-person perspective of an egalitarian heroine who acts on her principles.

An entertaining, if fanciful look at colonial India in transition. (author's note, text of Gandhi's letter of 1920, glossary) (Historical fiction. 9-12)
— Kirkus Reviews

The daughter of a British Civil Service commissioner in 1920s India, 17-year-old Rosalind is torn between
her proper English upbringing and her sympathies for the Indian people. Does a visit from the Prince of
Wales represent an opportunity to make her family proud or the chance to deliver a politically charged
message? In this sequel to Small Acts of Amazing Courage (2011), Whelan seamlessly weaves history and
culture into a novel that stands on its own. .. but readers captivated
by the characters, the setting, and the involving first-person narrative will be longing for the story to
continue.
— Booklist
Simon & Schuster/Paula Wiseman Books, 9781442449763, 272pp.
Publication Date: April 2, 2013
About the Author
Gloria Whelan is an award-winning and critically acclaimed author of many books for children and young adults. She won the National Book Award for young people's literature for her novel
Homeless Bird
. A versatile author of historical and contemporary fiction for children and young adults, as well as short stories and poetry for adults, Whelan is, according to Liz Rosenberg in the
Chicago Tribune
, "an accomplished, graceful, and intelligent writer." She lives in Grosse Pointe, Michigan, and you can visit her at
GloriaWhelan.com
.
or
Not Currently Available for Direct Purchase