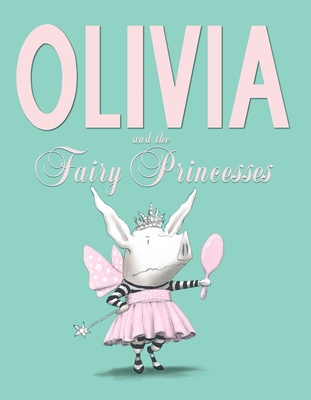 Olivia and the Fairy Princesses (Hardcover)
Atheneum Books for Young Readers, 9781442450271, 40pp.
Publication Date: August 28, 2012
* Individual store prices may vary.
Description
In this picture book starring the world's most imaginative pig, Olivia embarks upon a quest for identity with very lofty goals--and being a princess is NOT one of them Olivia is having an identity crisis There are too many ruffly, sparkly princesses around these days, and Olivia has had quite enough. She needs to stand out She has to be special She wants to do more than just fit in So what will she be?
Join Olivia on a hilarious quest for individuality, and rest assured, you won't find THIS pig pleased to be in pink.
Praise For Olivia and the Fairy Princesses…
"Thank God for Ian Falconer and his Olivia. She is the popular school-age pig, the latest in a lien of independent, high-spirited young ladies that goes back at least to Madeline and Eloise, and also includes Frances the badger and Lilly the mouse. Her seventh full-fledged adventure, "Olivia and the Fairy Princesses," is, to my taste, her best since her introduction 12 years ago."



"The legions of young children (and parents) who have relished Ian Falconer's "Olivia" books are well aware that the redoubtable eponymous piglet has a distinct personality and a flamboyant sensibility all her own. As a stand-in for the most amusing sort of precocious child, Olivia revels in her uniqueness and finds it provoking that other people need to conform. Yet at the same time, she is not wholly indifferent to the pleasures that other little girls enjoy."


* "Falconer's hammy piglet…opens this delightful installment declaring, "I think I'm having an identity crisis.... I don't know what I should be!"….Olivia stubbornly dresses in red-and-white-striped long johns, resists damsel-in-distress bedtime stories, and lies awake considering philanthropic lines of work. Lest this be seen as pure propaganda, however, Olivia's ultimate career decision places everything in perspective."



"In this latest, delightfully droll episode, readers find their precocious pig suffering from an identity crisis.... Olivia's whirring brain begins to consider what she might like to be…. Her ultimate choice is quintessentially Olivia. Falconer's charcoal-and-gouache illustrations, black and white with splashes of color interspersed, showcase Olivia's unique spirit and dramatic flair…panache aplenty."



"Olivia is back and as strong-willed as ever in this rumination on individuality. The usually upbeat piglet is depressed. "I think I'm having an identity crisis." All of the children in her class want to be princesses…. But Olivia likes to be unique…. Falconer's trademark use of minimalistic color to make Olivia stand out from the crowd is in full force here. His visual humor underscores his punch lines and illustrates Olivia's imagination…the subtle, sophisticated humor is pitched at adults as well as children. Falconer's witty parent-child banter will resonate with listeners old and young alike. Anyone who is afraid of challenging words and complex ideas should stay away, but parents looking for a way to expand their children's minds with more than a few chuckles along the way will find this story just the ticket. More please."
—School Library Journal, August 2012



"Olivia is depressed. She sees that individuality counts for little in her world…. After she spends the night pondering what she can be other than a princess, the last page shows her glorious answer…as with previous books, most of the fun comes from the delicious artwork executed in signature charcoal perked up with reds…. There are also some strong messages here about individuality and reinventing yourself according to your own vision. It's an idea you're never to young to learn."



"Independent-minded Olivia continues to be an endearing and distinctive heroine, and many a kid (and adult) weary of Barbie-pink fluff will find Olivia's perspective refreshing…the hordes of piglets clad in rosy tutus are actually quite adorable, but confident Olivia pictorially makes a strong case for striped ensembles and primary hues as she attractively poses in Falconer's charcoal and gouache illustrations.
This is a helpful reassurance that there are enjoyable alternatives to pink princesses for imaginative play and dressup possibilities."



"I approach sequels cautiously--they frequently don't measure up to the original. Happily, this one doesn't disappoint.... Falconer's droll humor is evident in both words and pictures...pure Olivia."