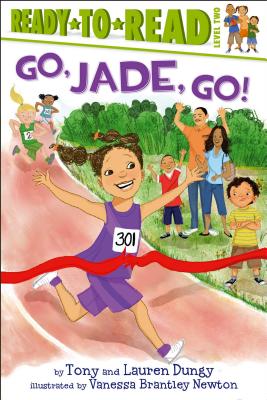 Go, Jade, Go! (Paperback)
Simon Spotlight, 9781442454668, 32pp.
Publication Date: July 9, 2013
Description
Justin feels overshadowed when the Dungy family cheers for Jade at her track meet in this inspirational Ready-to-Ready story. Jade is running in a track meet, and the entire family goes to watch and cheer her on Everyone is excited for Jade--except Justin. He wishes he was good at something that made everyone cheer for him. Older brother Jordan pulls him aside for a chat and explains that everyone is good at different things. He reminds Justin that he's a wonderful artist whose drawing are up all over their house The next time the Dungys go to a track meet, Justin has a surprise. This time everyone cheers for Jade--and for Justin This inspirational Level 2 Ready-to-Read features the Dungy children and highlights the importance of encouragement and support.
About the Author
Tony and Lauren Dungy are active members of a number of family, faith, and community-based organizations, including All Pro Dad, iMom, Fellowship of Chrstian Athletes, Mentors for Life, Family First, Big Brothers Big Sisters of America, and the Boys and Girls Club of America. Tony is a former NFL player and retired head coach of the 2006 Superbowl Champions, the Indianapolis Colts of the National Football League. Vanessa Brantley Newton is a self-taught artist and has attended both F.I.T. and SVA of New York, where she studied fashion and children's illustration. Vanessa is the illustrator of Ruby's New Home, A Team Stays Together!, and Justin and the Bully by Tony and Lauren Dungy as well as Presenting...Tallulah by Tori Spelling. She hopes that when people look at her work, it will make them feel happy in some way, or even reclaim a bit of their childhood.
Advertisement